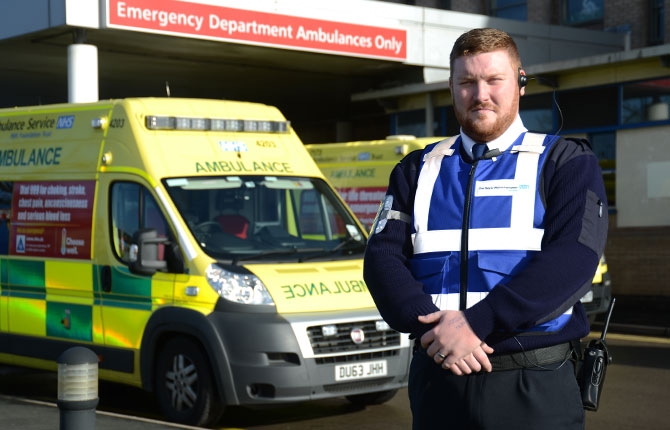 Stab Resistant Vests for Hospital Security Guards
The personal safety and security of hospital security professionals, and the welfare of the people within a hospital is being assessed with greater concern and in more detail than ever before.
What can be done to combat this level of violence in Hospitals?
The most common systems being implemented by hospitals are training in effective conflict management and conflict resolution, 'zero violence policies', electronic access control, digital video surveillance and body worn video solutions.
However, the matter of fact is that all of the above can fail - and it is also a fact that little will stop a potential intoxicated or mentally ill person from overreacting and expressing his feelings with some sort of act of violence.
Stab Resistant Vests Issued to Hospital Security Teams
Given the potential for violence, hospital security professional are increasingly preparing for the worst. Many hospitals have now rightly decided to review their risk assessments and concluded their security teams must be issued with overt stab resistant vests and/or high visibility stab resistant vests in order to reduce workplace violent related injuries and improve the personal safety of their frontline staff.
PPSS Stab Resistant Vests offer truly outstanding advantages and exceptional levels of protection:
Exceptional protection from the most realistic and most common threat: 'blunt force trauma'... meaning kicks, punches, hits from blunt objects, bricks, falls etc.
UK Home Office certified protection from edged weapons... as well as hypodermic needles
'Unlimited Shelf Life'... resulting in ongoing savings when compared to Kevlar based vests, which need replacing every 3 to 5 years due to the fact that they degrade when exposed to moisture from sweat / rain or when exposed to UV light.
Please view our product page: click here
Please read our CEO's article: "Stab Resistant Vests Critical for Hospital Security Professionals" click here
Please contact us now if you have you any further questions about
PPSS Stab Resistant Vests for Hospital Security Professionals:
Tel: +44 (0) 845 5193 953 | Email: info@ppss-group.com