Despite the fact that service quality issues are certainly the key focus in most aviation training literature, safety, security and 'exploring how to effectively combat risks', such as 'air rage', is the prime concern within aviation. Even low-cost airlines that extensively rationalise their services cannot save money and reduce budgets on safety matters.
'Air rage' is a term some will use to define that external threat in the aviation industry, which is used to describe aggressive and disruptive behaviour by unruly passengers during flight. Little is known about the 'air rage' phenomenon as there has been surprisingly little verifiable research and/or limited statistical data.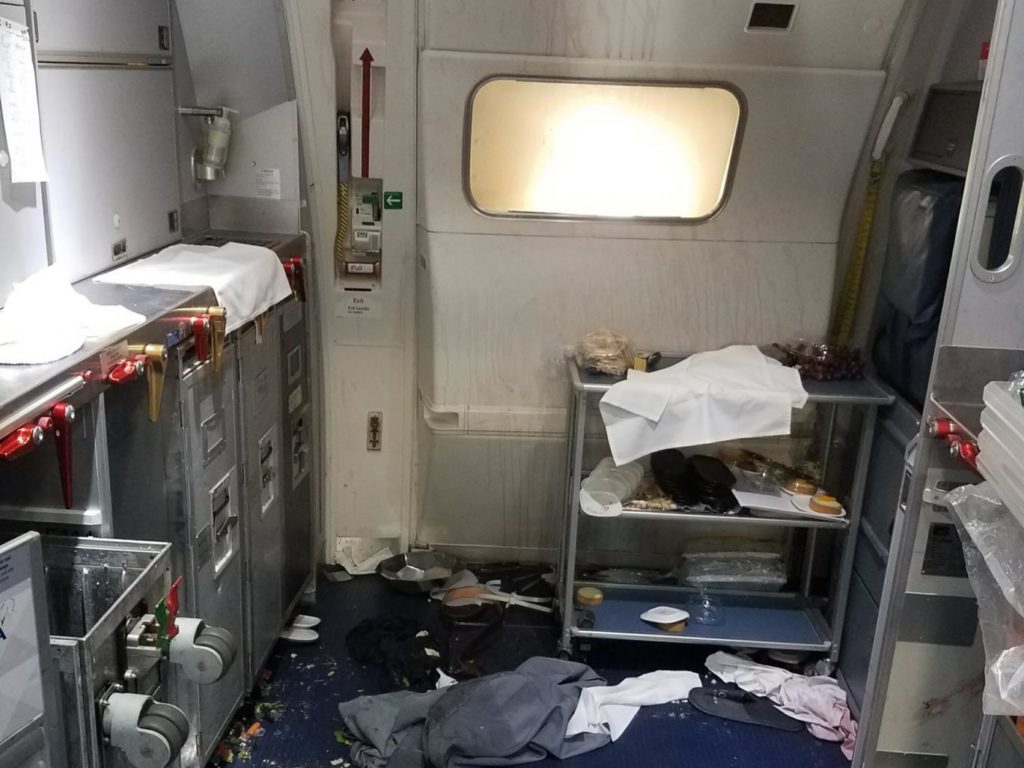 The following was stated in an article, published in 'Science Direct', titled: "The Training Of Cabin Crew And An Airline's Around Staff To Control Disruptive Airline Passenger Behaviour":
"…the probability of passengers encountering a serious incident has risen over the past years. The risk is however even greater for cabin crew, by simply flying substantially longer overall distances and of course the nature of their job responsibilities."
In short, cabin crew as well as ground staff are required to intervene in situations involving disruptive passenger . However, it is crucial to understand that the effectiveness of their interventions has implications for their personal safety, as well as the safety of other passengers.
Let us look at just some of the most recent news:
Some of us will remember the horrific incident back in 2014 in which a United Airlines employee working at the Fort Lauderdale-Hollywood International Airport was punched, dragged by her hair on the ground and repeatedly kicked in the stomach by an enraged passenger. Multiple witnesses reported that the attack was completely unprovoked.
Terrorist attacks on airports around the world have of course also contributed to raised anxiety levels and fears of ground staff.
I could easily continue with this list!
What can we do to further improve the safety of those professionals?
Laws and regulations are in place to clearly highlight what is deemed unacceptable and what is punishable under the current laws. Here in the UK we have the Aviation Security Act 1982, an Act of Parliament of the United Kingdom Parliament which covers offences against the safety of aircraft against acts of violence. Many will argue that those laws and regulations and acts are no longer protecting aviation staff sufficiently.
Clearly effective, efficient and 'real-life' based training of all airline staff has to be on top of that list. However, we also will accept that incidents on the ground or mid-air can look very different when they become 'real' and 'live'.
I believe that any additional support or equipment aiding the safety of those public facing professionals should be considered carefully and in great depth.
If we want to believe the mainstream media, some airlines have recently started to allow their cabin crew to 'readily use stun guns' in the wake of a violent incident involving an 80s pop star. You can read the entire news article yourself: click here
The requirements for cabin crew safety and emergency procedures (SEP) training are dictated by the UK CAA, EASA, IATA and/or the ICAO and details the initial training requirements for new recruits, conversion and training requirements such as 'passenger handling'.
The lasts section dictates that initial training should include ''advice on the recognition and management of passengers who are, or become, intoxicated with alcohol or are under the influence of drugs or are otherwise aggressive.  In my opinion, advice should also be given on anything that can be made available and used to ensure staff safety.
Emergency Body Armour
I believe Emergency Body Armour could/should become a part of training for all airline and airport staff, and this type of equipment should be stored at a safe place within the airport or aircraft and made available in case of a rapid change of threat levels or immediate dangers, may it be any act of terrorism or again any levels of extreme aggression by members of the public.
Emergency Body Armour is a new rapidly deployable 'device' offering the latest in field-tested body armour technology, displaying truly outstanding protection from edged weapons, such as machetes and knives, as well as absolutely unmatched protection from blunt force trauma injuries… the most common result of a punch, kick or blow by a blunt object.

Emergency Body Armour are ultralight (1.8kg) and can be deployed within sub six seconds and substantially improve airline safety and the personal safety of all public facing airline employees!
To make my position very clear. I do not believe and neither say that the Emergency Body Armour is eliminating a problem or that it is indeed the only solution available. No, I do however believe and say that it is a part of a 'tool box' available to reduce casualties and the severity of injuries when things get out of hand. Many things will need to change to improve the safety of airline staff… the LIMITED provision/supply of alcohol being right on top of that list.
In my head there is no question in my mind… the Emergency Body Armour is a 'good' thing… it will aid the safety of airline staff.. and that was our objective during the R&D phase all along!
In case you have any questions… please feel free to comment on my article and/or make contact using any of the below contact details.
Stay safe
Robert