For one minute only… let us not talk about money, but our hopefully genuine care for the personal safety of those who serve and care – and let us see if stab resistant vests can help protect our paramedics and emergency medical services.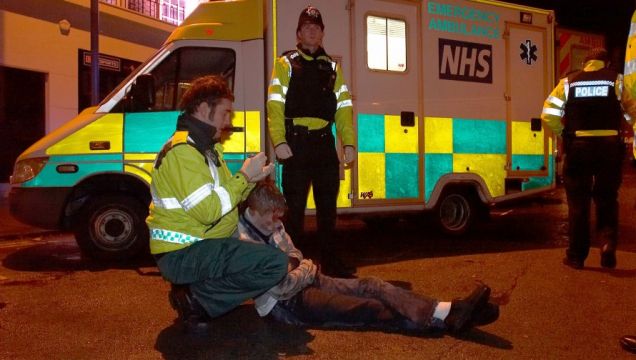 It is very difficult for me to provide you with proper up-to-date statistics of extensive research projects on the exact operational risks and threats faced by paramedics from around the world, but every not so often we do do get a good indication on how much at risk paramedics really are.
"London ambulance service workers have been advised not to visit 226 homes in the capital unless they have police assistance", for example was a header line that hit the UK news on 31st July 2013.
The below news samples should give us a very good idea of how relevant this issue has become in recent months in countries around the world:
The very latest news I could get hold of are from the UK, dated 4th February 2013, titled "Cumbria Ambulance Crews attacked as they attend emergency calls". What do YOU personally think… having maybe read some of these news snippets, should stab resistant vests be made available to paramedics? The answer to this question should of course be partly based on the result of carefully carried out risk assessments, and based on the type of risk assessments I used to carry out to conduct Personal Security Details (PSD) I would suggest we look at it from a very simple 5×5 risk assessment point of view, scoring:
  1-5 possible points for the 'probability' of a potential physical assault, and
  1-5 possible points for the 'worst potential outcome' of such as assault.
I know… that's a very quick, but nevertheless reasonably effective way of establishing risks within a fairly short time frame.  For the purpose of this hopefully thought provoking exercise I would suggest that the 'probability' that an attack against a paramedic might happen could be around the 3 point mark (of course subject to country, city, exact area and time of day). I think it is also fair to suggest that the 'worst possible outcome' could include serious injury or even death of a paramedic… so let's be fair and give this one a point mark of 4-5. Multiplying both figures (3 x 4.5)… the result would be a score of 12.5 out of possible 25 points (5 x 5 maximum possible score).
Please feel free to disagree and or even question my quick and of course basic risk assessment.  HOWEVER… The question you really should ask yourself is… in YOUR opinion… how far am I out?  Am I TOTALLY wrong or am I very close?  Is it worth re-looking into Personal Protective Equipment (PPE) for Emergency Medical Professionals? Or are you suggesting NO WAY… NEVER!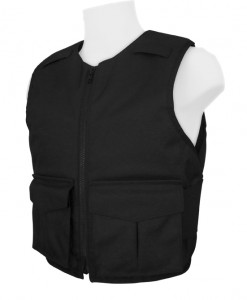 Jonathan Fox, ex Press Officer of the UK's Association of Professional Ambulance Personnel (APAP) made it clear during his talk on PPE at this year's LONE WORKER SAFETY Conference in London: "The absence of stab resistant vests continues to undermine the efficiency of other measures which are already in place.  The APAP has been campaigning for the issue of stab resistant vests for more than a decade.  It is time that it finally happened and we put the safety of our personnel first". Based on dozens of constructive and personal comments I have received in Emergency Services related LinkedIn and other network discussions, as well as some almost emotional emails addressed to me personally, I can clearly state that the clear majority of you seem to be in strong support of the idea/proposal of making stab resistant vests available to paramedics… not making them COMPULSORY… but making them available to those who clearly want or even need them.
The fact of the matter is that paramedics contact us almost every single day highlighting the fact that they cannot have any stab resistant vests and in many cases are not even ALLOWED to wear them.  I am of course more than happy to discuss this in person with anyone who shares my passion for this issue.
However, despite written evidence accepted by the UK's Home Affairs Select Committee from the Associationof Professional Ambulance Personnel (APAP) in the UK in September 2011 relating to the infamous London riots (August 2011), highlighting the inconsistencies in body armour provision for ambulance crews caught up in the disturbances  across the country… progress is STILL very slow. Based on an  international survey PPSS Group has carried out over the past twenty four months, we can confirm:
76% of those completing our survey stated "stab resistant vests, which also offer blunt trauma protection, should be issued to ALL Paramedics".
88% also confirmed that "paramedics should be issued with their OWN INDIVIDUAL body armour".
50% mentioned they were not aware of the latest available advances in concealable stab resistant vests, e.g. thickness, weight, concealability and wearability.
62% of all respondents stated, the wearing of stab resistant vests should NOT be made compulsory.  I agree with this… however we must NOT refuse issuing those with stab resistant vests who demand such protection.
Our survey will continue… so please have YOUR say:  Survey Link The fact of the matter is (as sad as it might be)… widely available statistics will tell us that it is unfortunately only a matter of time until another paramedic or emergency medical professional will be attacked, beaten, punched, kicked or stabbed (as much as we all will hate this fact).  The statistics can of course not give us the name of the next person who will become part of this statistic… so our responsibility must be to ensure it is a) not our name, and b) not the name of our colleagues and employees.
However, there is no question about it… it will happen. What will we/you have done in order to reduce that risk? Bill Geraghty, Vice President of our North American operation, has just last week sent me a link to the Canadian Journal of Emergency Medicine's recent survey, which concluded that most paramedics are victims of violence in the workplace. The results are that two-thirds of paramedics reported being victims of at least one form of violence while at work during the past 12 months.
Verbal abuse was reported by 67. 4%, perpetrated by patients (62. 9%), patient family or friends (36. 4%), colleagues (20. 8%), and bystanders (5. 8%). Intimidation was reported by 41. 5%, perpetrated by patients (37. 8%), patient family or friends (27. 0%), colleagues (45. 3%), and bystanders (3. 4%). Physical abuse was reported by 26. 1%, perpetrated by patients (92. 3%), patient family or friends (11. 1%), colleagues (3. 8%), and bystanders (2. 3%). Sexual harassment was reported by 13. 6%, perpetrated by patients (64. 7%), patient family or friends (18. 4%), colleagues (41. 2%), and bystanders (8. 8%). Sexual assault was reported by 2. 7%, perpetrated by patients (88. 9%), patient family or friends (7. 4%), colleagues (14. 8%), and bystanders (2. 7%). We all, and certainly all senior health & safety managers within these organisations are clearly and genuinely shocked and furious.
We might well state that any form of attack on emergency services personnel is totally unacceptable, whether it be physical or verbal! These acts of aggression are carried out by angry, very upset, hostile and often intoxicated members of the general public, who have decided to express their 'feelings' in a violent manner.   These people are so extremely aggressive because they are either very unhappy with you getting to their location so late in their opinion, or with the lack of quality service (in their opinion) you are providing, they make you responsible for the suffering of the person you are trying to take care of, or they are desperate to get hold of the drugs they believe you have in store.  I am sure you can think of many more reasons.
So… what action should be taken to protect these frontline professionals, who are out there to help and save lives? Well, we must understand that we cannot buy safety… but we pay for it dearly, if we don't have it. We can also not completely eliminate risk… but we can reduce it to an acceptable level.  As long as systems are human-made, we will always have risk! Stew Schmidt, MA, Paramedic and General Manager of Canadian Muskwachees Ambulance Authority explained to me: "Safety is not expensive, it is priceless and we looked to this level of protection to promote preparedness primarily against blunt trauma.
The key is for me to provide my team with the right tools to do the right thing at the right time. Our goal is that the EM Crews are never put into an unsafe scene, albeit if the situation changes (while our team is on scene or transporting) then at least the crew has an added level of protection." Others might say there is no money to protect those who serve, almost suggesting there is a price we can put on someone's life. Others might argue that stab resistant vests look too aggressive, authoritative or confrontational. Well, in many of my previous blogs I have made it very clear that the 'design argument' is often used as an excuse for not issuing PPE, but should be put to the attention of the body armour manufacturer anyway.
My company PPSS Group has taken this valid argument on board and subsequently designed, developed and manufactured stab resistant vests offering UK Home Office certified stab protection, needle protection and unmatched protection from blunt trauma injuries… usually caused by a punch, kick or blow of any type of blunt object. However, they do of course NOTlook like the type of tactical body armour as used in Iraq, Afghanistan or other regions of conflict.
Please view the following video of PPSS Blunt Trauma Stab Vests: [youtube_sc url= http://www.youtube.com/watch?v=PXo08F7yFTg -Rg width=600 rel=0 fs=1]
Well, you can see, ultra light and thin user friendly stab resistant vests are now available, and please let me assure you, according to a number of paramedics… CPR can be performed whilst wearing the vest…  so what stops us? I am of course aware of the argument or concern some might wish to bring forward in regards to the perception of body armour, saying or believing that such equipment could be perceived as 'confrontational' or 'aggressive.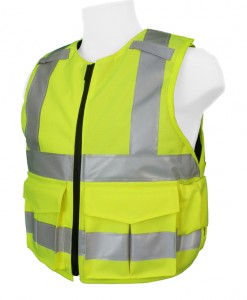 Stab vests can now be designed as high visibility overtly worn body armour… that look much more like a high visibility vest rather than 'law enforcement type' body armour. High visibility clothing has become a part of our society and culture in many countries… anyone changing his wheel on his car on a main road wearing a high visibility vest does not look 'threatening' or 'aggressive'.   High visibility clothing can well be seen as a 'point of contact' in an emergency or crisis situation.  The responsibility of making a body armour LOOK less 'aggressive' and making them become more 'wearable' has to be the responsibility of us, the body armour manufacturer… and we are taking this responsibility very serious.  But there is no doubt about it… body armour are now much lighter, thinner, more wearable and I 100% believe they look much much less confrontational than those worn by 'enforcement agencies'.
I genuinely think stab resistant vests are a realistic option to effectively protect ambulance staff and paramedics without making them appear as obvious and challenging targets, but the senior management of these organisations must sit down and SEARCH for the options. The argument of no money being available or body armour look too aggressive, doesn't help protect these frontline professionals.  It does not increase their chance of coming home safely! Maybe it is all about education.
If we as security and safety experts make up-to-date information on stab resistant vests available to these decision makers, and if we explain to those responsible for the safety of paramedics that design and manufacturing capabilities within the world of body armour have evolved… then maybe these guys will one day get this type of protective equipment, which many demand and certainly all deserve.
I strongly suggest let us speak to these professionals and explain to them what can and should be done to improve their personal safety… it has to be worth the time and effort! In case you have any question please contact my team or me and email info@ppss-group.com, call +44 (0) 845 5193 953 or visit www.ppss-group.com
However, in case you are based in either the U.S. or Canada, please be so kind and contact our North American division by emailing info@ppss-northamerica.com or visit www.ppss-northamerica.com