What actually is blunt force trauma, and why is it so important that stab resistant vests issued to prison and riot officer as well as security professionals offer a high level of protection from this specific threat?
Deaths resulting from blunt force trauma are some of the most common cases encountered by forensic pathologists. For instance, almost all transportation fatalities… including those involving road traffic collisions and pedestrians being hit by vehicles result from blunt force trauma.
Other severe injuries and even deaths more relevant to my blog, are those of officers and frontline professionals after being hit by a solid object, such as a fist, foot, knee, elbow, iron bar, extendable baton, baseball bat, crow bar, brick, bottle, can, chair etc… or by someone being pushed against another solid object e.g. door, wall, floor or car or down the stairs etc.
So what is 'blunt force trauma' again?
Well, let's get a couple of law firms answering this question before I start throwing some hyper intellectual medical terminologies at you I don't understand myself:
"A severe traumatic episode caused to the body (or head) with the sudden introduction of a blunt instrument used with great force"

"Blunt force trauma is when the body is hit with an object that is blunt, or not sharp, with enough force to cause significant damage. Blunt abdominal trauma (BAT) comprises 75% of all blunt trauma and is the most common example of this injury" 
The severity of such injury is mostly determined by the speed, velocity, size and weight of the object, and can range in severity from a tiny bruise to a 'compression' type injury and in the worst case scenario result in ruptured organs, rapid internal bleeding and ultimate your death.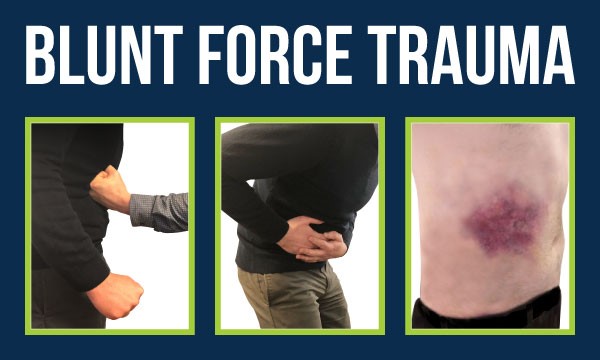 Not discussing bullet resistant vests right now, but rather focusing on STAB resistant vests, the key task of a stab resistant vests is to a) prevent a knife from entering your upper body and b) protect you from internal injury, including blunt force trauma I guess.
Now here is a real problem!
Any type of flexible body armour made out of either Kevlar®, Dyneema®, Twaron® (or similar materials), including the latest high performance body armour produced by top secret manufacturers at top secret locations for top secret agencies, do not offer anywhere near enough protection from this specific operational risk.  The blunt force trauma protection required or set by all international body armour standards are very very basic… in fact they are a joke!
In today's society and on a domestic level (country internal) the risk of being punched, beaten, kicked or facing someone throwing stuff at you is literally hundred times higher than being stabbed or shot, and it is fair to say that more than 99% of body armour issued to domestic homeland security professionals offer insufficient protection.
So, we at PPSS Group strongly believe the key objective of high performance body armour must be to offer all required (by whatever international standard) stab/knife protection whilst using extremely effective, energy absorbing and impact reducing materials… to also protect the wearer from blunt force trauma injuries.
The following video is highlighting the exceptional performance of PPSS Stab Resistant Vests… in fact I decided to ask my colleague Jim Still, ex Royal Marine Commando and now our 'Head of Marketing and Brand Protection' to hit me with all sorts of tools and toys e.g. iron bars, extendable batons, base balls bats and so on to highlight my trust in our product and make clear that what we do is 'right' and 'good', and it is fair to say he took that job very very serious:
I urge all homeland security agencies to make a conscious decision when purchasing any type of body armour.  What is the most important criteria for YOU?  The concealability, the weight and the thickness of a stab resistant vest or a sufficient and reliable level of protection from 'blunt force trauma' the by far most likely risk/danger your team will face?
I would of course suggest the answer should be subject to your operational threats, risks and operational duties. If the concealability of a body armour is key for you then you may well need to look for the thinnest body armour, and the 'blunt force trauma' protection may have to become of secondary importance, but in general the most likely risk your men/women face should be covered effectively.
On a different note… based on one of the most informative research projects on body armour worn by US Law Enforcement Officers ever, we can confirm that thousands of lives have been saved since the first officer was shot wearing a modern body armour in 1972.  Over 70% of law enforcement agencies report issuing body armour to all officers, and 53% made the wearing of body armour compulsory when on duty.
Body armour save lives and I am proud to contribute to that!
Any questions? If so, please call my team at PPSS Group on +44 (0) 845 5193 953 or email info@ppss-group.com or visit www.ppss-group.com
Be safe…
Robert Kaiser, CEO