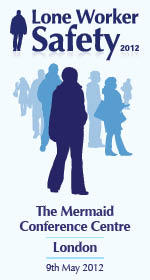 Please allow  me to use my blog to thank everyone for making the LONE WORKER SAFETY events such a great success.
I am indeed very proud of the overwhelming comments received over the past years, and as you can see we are now in the process of preparing our LONE WORKER SAFETY 2012 event to provide like minded professionals involved in lone worker safety with specific and up-to-date information, which will go far beyond theory alone.
Our LONE WORKER SAFETY 2012 will be structured around lone worker safety and focus on health & safety professionals, lone workers themselves, managers, team leaders and senior members of staff who work within organisations where lone working takes place, and if lone worker protection is something you are passionate about then this is the event to attend.
Have a great day everyone.
Robert