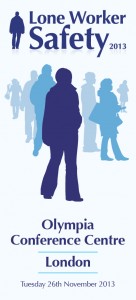 We are now in the process of preparing our LONE WORKER SAFETY 2013 Conference & Exhibition to provide like minded professionals involved in lone worker safety with specific and up-to-date information, which will go far beyond theory alone.
This year's LONE WORKER SAFETY 2013 Conference & Exhibition will take place on Tue 26th November 2013 at London's brilliant Olympia Conference Center.
It will be once again all be structured around lone worker safety and focus on health & safety professionals, lone workers themselves, managers, team leaders and senior members of staff who work within organisations where lone working takes place.
Why attending our LONE WORKER SAFETY 2013 event?
Because we have invited some of the UK's most respected experts and speakers, planing to deliver talks which, without question, will help you to develop your understanding on how to help your workforce to stay safe.
Benefit from the in depth knowledge of some of the countries lone worker and personal safety experts.
Gain enhanced awareness of lone worker protection risks.
Learn how to balance meeting your duty of care with providing an effective service to the public.
Understand how technology e.g. lone worker protection devices, lone worker tracking or personal alarms can help to improve lone worker safety.
Gain a better knowledge of nature, causes and good responses to aggressive behaviour or conflict.
Learn about the effectiveness of good lone worker alarms systems.
Let us help you to develop the most effective lone worker policy for your organisation.
Public & Private Sector: £199.00 + VAT (incl refreshments, lunch and conference pack)
Charitable Organisations: £149.00 + VAT (incl refreshments, lunch and conference pack)
If lone worker protection is something you are passionate or wish to learn more about… then this is the event to attend.
Any questions? Please call us on 0845 5193 953 or email info@loneworkersafetyexpo.com