As the COO of PPSS Group, it is fairly common for me to be told whilst in dialogue with potential customers that, "we don't have a risk assessment for this PPE". Well, I get it to an extent, but a risk assessment must be carried out on a piece of PPE to determine that it is indeed the most suitable for the risk faced.
But what is of greater concern is when we are told that, "we do not have a risk assessment for our staff in this role".  How can this still be in this day and age?  If a hazard has been identified within that activity, then a risk assessment must be carried out by law!
Now when you consider that our customer base here in the UK is varied, consisting of frontline security professionals, law enforcement, special education establishments, high security mental health organisations, industrial glass manufacturing etc; each with their own specific hazards of being either cut, bitten, stabbed, slashed….or worse, you can begin to imagine why I become a little perplexed when being told that 'there is no risk assessment' for these professionals to refer to, who, as part of their daily duties may well be subjected to such risks daily.
To make it crystal clear:
Health and Safety Executive Guidance on; Personal Protective Equipment at Work Regulations 1992
Clothing – Para 10 – 'where any uniform or clothing protects against a specific risk to health and safety, (for example high visibility clothing worn by the emergency services), it will be subject to the regulations.'
Risk of physical violence – Para 13 – 'The regulations apply to the provision of PPE (such as helmets or body armour) where staff are at risk from physical violence.'
Para 31 – 'PPE should only be used where it provides additional protection from residual risk. It must be identified as required as part of a risk assessment. There may be certain jobs and workplaces that would require everyone to use a specific type of PPE'
It is somewhat shocking that so many organisations are knowingly not completing risk assessments when putting their staff in environments where the risks of injury or harm are considerable.
Furthermore, not only is it right that appropriate PPE is supplied for those facing such residual risks, where de-escalation may have failed, where avoidance is not appropriate or where all other control measures that have been put in place (i.e. eliminated, substituted, engineered out or administrated for) but a residual risk remains… it's about having the appropriate and suitable level of PPE: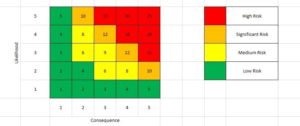 Suitability of PPE
Para 40 – 'Regulation 4(3)(a)–(e) lists factors which determine whether PPE is suitable. When selecting PPE you should consider and take account of the following factors:
(a) the job itself and the risks for which protection is needed.'
Para. 52 – 'The purpose of the assessment required under regulation 6 is to ensure that the employer, who has to provide PPE, chooses PPE which is correct for the particular risks involved and for the circumstances of its use.'
As an example, when it comes to Body Armour here in the UK, what do you think is realistically the most common threat?
A punch?  A kick?  A shove?  Strike from blunt objects?  Or the dreaded stabbing?
From my years dealing (and working) with these front-line professionals I can categorically tell you that the daily or most common threat is against the 'blunt force trauma' related assaults.
European Rules & Regulations
As far as our European neighbours are concerned, the obligation to wear appropriate PPE within all EU member states is no different in context to the UK's obligation to protect its own workforce.
The European Framework Directive on Safety and Health at Work (Directive 89/391 EEC), adopted in 1989, which then had to be transposed into national law by the end of 1992, was a substantial milestone in improving safety and health at work.
This directive guarantees minimum safety and health requirements throughout Europe whilst permitting Member States to maintain or establish more stringent measures.  This directive, inevitably, has – since its implementation, had considerable legal consequences due to inadequate national legislation while in others no major adjustments were necessary.
Further to this directive, in 2004, the European Commission issued a communication on the practical implementation of the provisions of same of the directives, specifically in terms of the necessity for suitable, appropriate PPE (body armour), along with the legal requirement for organisations to conduct risk assessments.
The 'long and short of all of this' is that, within Europe, there is no escaping the legal duty of care that we have to our employees, in providing appropriate levels of protection.  Yes, member states will take this legislative act and devise their own laws around it but they must achieve these goals and will therefore have a legal framework to prosecute, within that country for such a breach in that duty of care.
The same applies for Risk Assessments.  An employer must conduct a risk assessment in order to determine the threat, implement mitigation measures and establish and protect against the residual risk; as a security officer, body armour is often the only solution to mitigate the residual risk.
Stay Safe
Tony Welsh, COO
PPSS Group