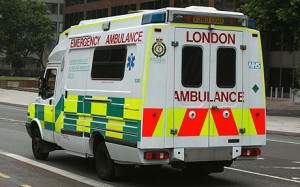 Based on our extensive survey, we have conducted from August last year to late spring this year I can clear state that too many paramedics and other frontline professionals are still opposed to wearing stab vests, due to simple misperception.
Of course, I am fully aware of the many internal surveys, conducted by Ambulance Trusts concluded that stab vests are not wanted by their frontline staff.  However, I strongly believe this is simply due to 'technical and design misperceptions' of body armour.
The result of our survey is clear. Based on our survey, 72.8% of those completing the survey stated "stab vests, which offer blunt trauma protection, should be issued to ALL Paramedics".
87.7% also confirmed that "paramedics should be issued with their OWN INDIVIDUAL stab vest".
55.6% mentioned they were not aware of the latest available advances in covert stab vests, e.g. thickness, weight, concealability and wearability.
Many of these professionals still believe stab vests are 6kg heavy, one inch thick, bulky, uncomfortable, restrictive and confrontational looking. But this is now far away from the truth.
Many paramedics believe the above due to their 'employment history'.  They might have served within the Armed Forces or Police Service prior to their current job role, and body armour worn at that time might have been extremely bulky and heavy.  Often because these body armour might have been to a much higher spec, offering protection which would be simple over kill.
I think it is time to ask paramedics, prison officers and other emergency services personnel the right questions and educate them in a caring and supportive manner.
Meetings should be arranged with key decision makers' as well actual frontline staff who are on the receiving end of intimidation, verbal abuse and hostility.
Let us show them how much the design and weight of body armour has moved on.
I fully understand the operational responsibilities and risks of ambulance personnel. A very good friend of mine is working for the London Ambulance Service for 32 years now, and between us we feel that we have a great understanding of real risks and threats.
A few months ago I have delivered a very informative and certainly jaw dropping public presentation, demonstrating the astonishing capabilities of recently developed body armour and stab vests at the London Islington Hilton Hotel. The event was attended by numerous organisations and professionals and I very much hope that it was a bit of en eye opener for all guests.
I strongly recommend to all Ambulance Trusts, Healthcare Trusts and other Emergency Services which employ frontline professionals to re-look at the potential requirements for user friendly and lightweight body armour.
Should you have any questions in reference to body armour, stab vests or slash resistant clothing, then please feel free to contact PPSS Group on +44 (0) 845 5193 95 email info@ppss-group.com or visit www.ppss-group.com