All garments produced under the world's #1 Cut Resistant Clothing brand SlashPRO® are made out of 100% Cut-Tex PRO can help protect homeland security professionals, law enforcement, prison, border control, immigration and customs officers, as well as private security professionals. Many have suffered from severe cut wounds sometime during physical confrontations.
From the point of the employer, slash and cut injuries can often lead to legal and financial repercussion.  From the point of the injured professional, and depending on the severity of such injury, it can often lead to long lasting emotional scars, ongoing distress or in very serious cases even post-traumatic stress disorder (PTSD).
Most common PPE (Personal Protective Equipment) or cut resistant clothing used by the above sectors do not offer sufficient cut protection.
However, many frontline professionals have long asked for better slash resistant clothing, and UK based PPSS Group have launched a very effective solution just a few years ago.
A high performance cut resistant fabric called Cut-Tex® PRO has been developed, offering ISO 13997:1999 Blade Cut Resistance Level 5 (the highest possible), EN 388:2003 Blade Cut Resistance Level 5 (the highest possible) and ASTM F-1790-05 Cut Resistance Level 4.
This fabric does exactly what was needed in order to design, develop and manufacture cut resistant clothing, which will help to protect those who serve, and reduce the risk of workplace violence related cut injuries.  Slash resistant clothing has now been made user friendly, comfortable and 100% concealable (subject to garment design).
Cut Resistant Clothing: The Reality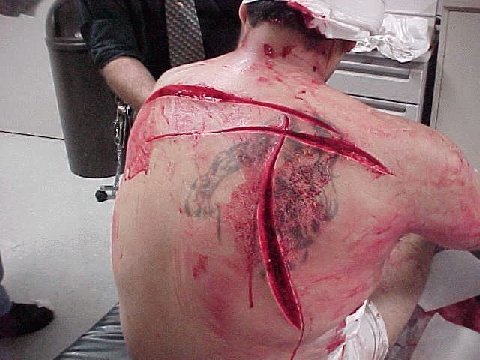 Attacks on frontline security professionals are occurring rather frequently.  One unprovoked attack on prison officers at Frankland High Security Prison in Durham, UK, left prison officer Craig Wylde (now one of my closest friends) severely injured after his auxiliary artery was slashed during the incident. He luckily survived.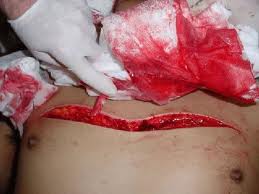 There are many more reports of domestic frontline professionals being slashed or suffering from major cuts.  Recent reports of this well documented type of assaults from Israel are readily available on the internet or security and law enforcement related publications.
These images in my blog are not on display in order to shock, scare monger or 'utilise' to create sales, but rather to emphasise the severity of some cut or slash wounds.
Many frontline professionals by instinct will lift their arms and hands during a potential hostile situation, in order to protect the face and head. This is nothing to be ashamed of. In fact it is absolutely normal, and only highly trained operatives would respond differently due to many years of extensive training.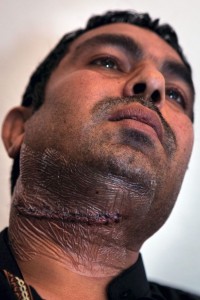 However, we must acknowledge that this 'normal' and subconscious action would expose an extremely vulnerable area under your arms. A cut, injuring the auxiliary artery under your arms, can lead to rapid blood loss, subsequent shock and even death.
Prison, police and security officers often receive cut wounds along the forearm or open hand.  These wounds are the most common injuries and classed as 'defensive wounds', often seen as evidence the wearer was protecting him or herself, rather attacking the opponent, and we believe that slash resistant clothing can prevent many of such injuries.
We have to accept the fact that all frontline professionals dealing with potentially hostile members of the public or intoxicated individuals are obviously working in a higher risk environment.  We believe that a new generation of cut resistant clothing made out of Cut-Tex® PRO will improve their personal safety and reduce the risk of workplace violence related injuries.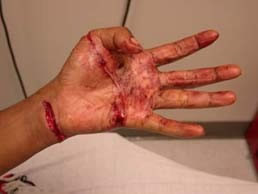 'Forced Entry Teams' are part of all major special police units. Part of their operational responsibility might well be to enter properties through doors and windows, meaning forcing their way in through broken and smashed windows and glass. There are numerous of reports of partly serious cut related injuries as many of these professionals have not been issued with appropriate cut resistant clothing, gloves, sleeves (arm guards) or boiler suits.
Slash Resistant Clothing:  The Solution
I strongly believe that personal protective clothing, especially cut resistant clothing, is something that can effectively reduce the risk of workplace violence related injuries, in the context of this article cut related injuries.
Cut Resistant body armour base layer for example make a lot of sense.  The area, which is covered by most body armour is made out of a breathable fabric to make the wearing of body armour even more comfortable and bearable in hot and humid conditions.  However, the exposed area, such as under the arm, the arms and the side of the upper body can be covered, made out of Cut-Tex® PRO  cut resistant fabric offering the wearer exceptional cut protection during a situation where self-defence or physical action is required.
A number of very specific areas of our body are at notable or high risk and ultimately warrant the issuing of cut resistant clothing:
The following graphic clearly illustrates the 'location' of these arteries: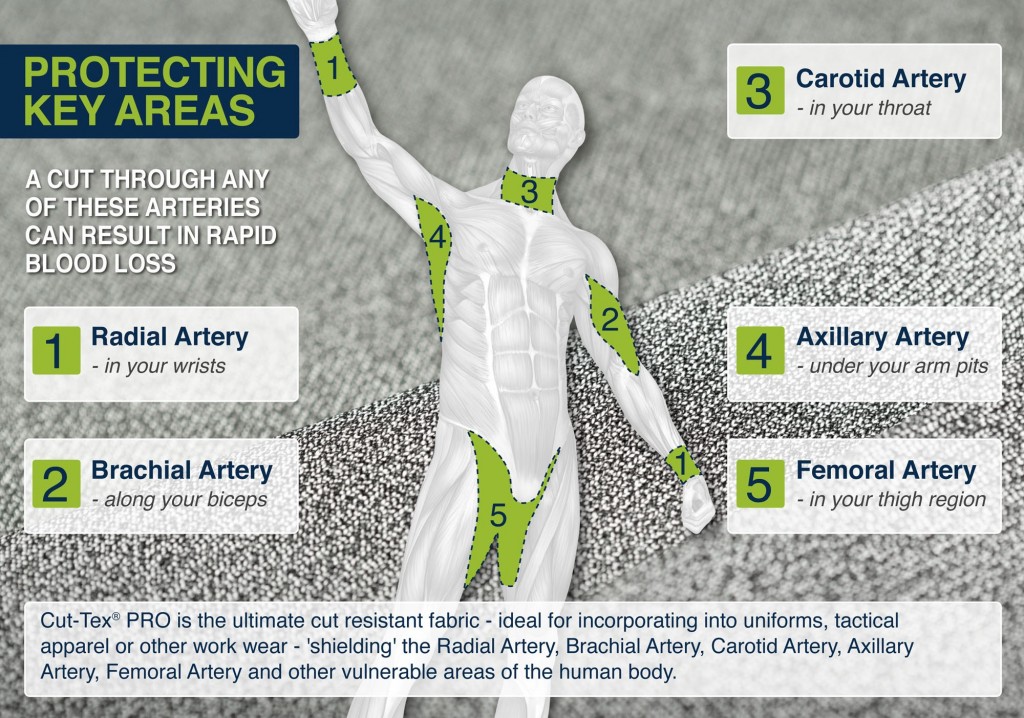 I believe protective clothing, shielding these main arteries should be available to all professionals dealing regularly with aggressors and potentially hostile situations.
My emphasis would be to design and manufacture cut resistant clothing that is none-aggressive or none-confrontational looking.  We certainly want to enable those professionals to let their personality shine, use their diplomatic and interpersonal skills in order to defuse the risk of any potential escalation without giving away that protective clothing is being worn.  We do not want them to look like 'the aggressor'. Personal protective clothing just needs to 'be there' in the background, on standby, ready to protect and perform when things go wrong.
We all know… violence can sometime erupt within seconds, often without any prior warning signs and without any fault of the law enforcement, security or mental health care professional.  Going back to the office and putting on some appropriate gear is not always a realistic option, hence cut resistant clothing should be comfortable enough to be worn at all times.

Please note we are also more than happy to offer our Cut-Tex PRO cut resistant fabric to the manufacturer of your current uniforms or tactical gear or coveralls. This would enable them to incorporate this high performance material into your current uniform, especially vulnerable areas that really require such level of protection.  This would effectively help protect your colleagues from potentially horrendous cut injuries.
If you wish to purchase our cut resistant clothing, then please visit our online shop:  www.slash-pro.com
PPSS Group is also renowned for the most durable high performance stab resistant vests in the world.