It's fairly common for me to be told in meetings with potential customers that, 'we don't have a risk assessment for stab resistant vests', and I get it… why would you conduct a risk assessment for a piece of PPE? What does 'flick my ears' is when I am told that, 'we do not have a risk assessment for our staff in this role'!
Now when you consider that our customer base here in the UK is predominantly Local Government Enforcement Teams, NHS Security Teams, University Security, Housing Association workers etc etc… perhaps you can begin to see why I become a little perplexed when being told that 'there is no risk assessment' for these front-line professionals who, as part of their daily duties may well be subjected to threats of violence or physical assault.
To give you a little steer….
Health and Safety Executive – Personal Protective Equipment at Work Regulations 1992, state;
Risk of physical violence – Para 13 – 'The regulations apply to the provision of PPE (such as helmets or body armour) where staff are at risk from physical violence.'
and…
Para 31 – 'PPE should only be used where it provides additional protection from residual risk. It must be identified as required as part of a risk assessment. There may be certain jobs and workplaces that would require everyone to use a specific type of PPE'
…So it beggars belief that so many organisations are knowingly not completing risk assessments when putting their staff in environments where the risks of abusive or violent behaviour are considerable.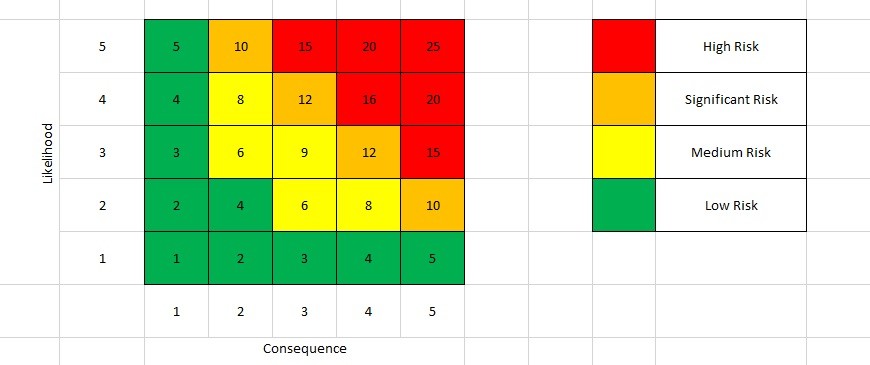 Furthermore; not only is it appropriate that body armour is supplied for those facing such residual risks, where de-escalation may have failed or where avoidance is not appropriate, but it's about having the appropriate and suitable level of PPE;
Suitability of PPE
Para 40 – 'Regulation 4(3)(a)–(e) lists factors which determine whether PPE is suitable. When selecting PPE you should consider and take account of the following factors:
(a) the job itself and the risks for which protection is needed.'
Furthermore…
Para. 52 – 'The purpose of the assessment required under regulation 6 is to ensure that the employer, who has to provide PPE, chooses PPE which is correct for the particular risks involved and for the circumstances of its use.'
NOW…. Here's the thing…. In the UK, is the realistic, most common threat against;
A punch? A kick? A shove? Strike from blunt objects?….Or the dreaded stabbing?
From my years dealing (and working) with these front-line professionals I can categorically tell you that the daily or most common threat is against the 'blunt force trauma' related assaults. Yes, stab protection may well be needed; but I would suggest that one of your risk assessment tools might want to look like this….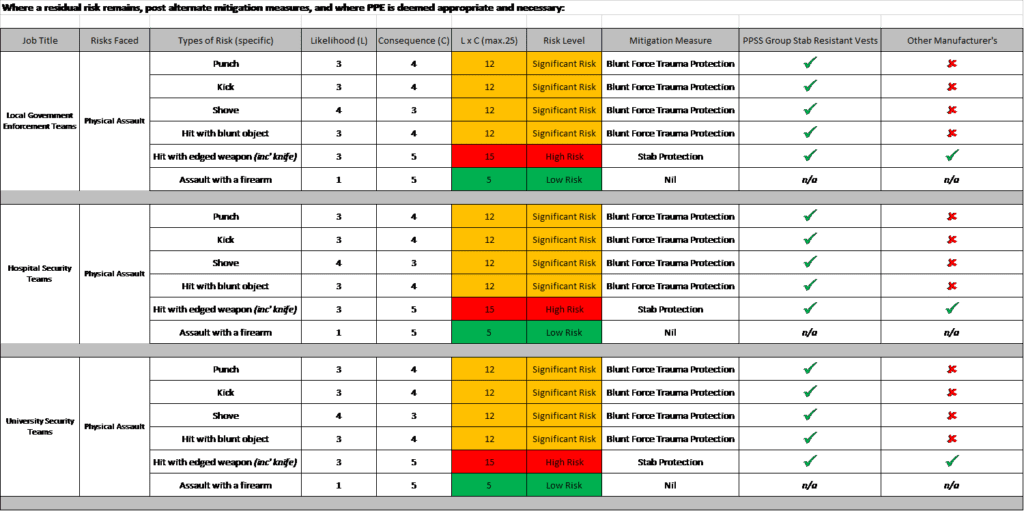 To arrange a meeting with one of our Senior Body Armour Consultants to discuss your needs, please feel free to email me directly at; tw @ ppss-group.com or give us a call on 0845 5193 953.
Stay safe
Regards
Tony