Description
CutPRO® Cut Resistant Clothing
Both glass and metal are two exceptional materials, however we also know that working with either can present the risk of sustaining serious cuts and lacerations. This is where CutPRO® Cut Resistant Clothing can make a real, and more importantly dependable difference.
CutPRO® Cut Resistant Clothing is made from 100% Cut-Tex® PRO. It has recently become an essential part of PPE within the glass and metal industry.
Health and safety professionals overseeing companies operating in either of these sectors now face a real challenge. They have to identify what company is offering 'good' and which one is offering 'inferior' quality and cut protection.
Please read our CEO's article on European rules and regulations and performance standards: click here

Cut Resistant Clothing | Guidelines
CutPRO® is our very own fantastic new brand of protective workwear. It has been created for those in need of quality, durable and user-friendly cut protection.
As a company, we at PPSS Group, looked at several existing garment designs. Together with the multi award winning Department of Apparel of one of the UK's leading Universities worked on the ultimate garment designs. We wanted to take 'durability', 'quality' and 'comfort' to a completely different level.
CutPRO® Cut Resistant Clothing is the final result of in-depth investigations and support from senior health and safety professionals of flat glass and sheet metal companies from around the world.
All of our garments are made from our very own high performance cut resistant fabric Cut-Tex® PRO, a globally respected, ultra-high performance, light, durable and easy to wear fabric offering ANSI/ISEA 2016 Level A5 and EN 388:2016 Level E of blade cut resistance, as well as the highest levels of puncture and tear resistance, according to latest EN 388:2016 standard.
All our garments are manufactured in the E.U. and are CE marked (Cat II PPE). This means they comply with all European laws and regulations.  These laws and regulation state:
All clothing that is to be worn by an end user to offer any type of protection is classed as PPE.  PPE must be CE certified for sale in the European Union.

If a glass or metal company is using such clothing to improve the health and safety of the wearer or for their protection, then such clothing must be CE marked and certified in the EU.

You cannot sell or supply anything within the European Union, which can be defined as PPE without correct CE marking.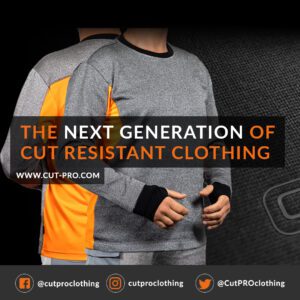 Robert Kaiser, CEO of PPSS Group and CutPRO® Cut Proof Clothing states: 
"The handling of flat glass or sheet metal clearly contains the risk of serious personal injury, most likely in the form of cuts and laceration.  Serious accidents continue to happen especially in premises where such material is handled and processed manually. Suitable protective workwear should be worn."

"I strongly believe we can deem CutPRO® Cut Proof Clothing as 'suitable'.  It can essentially reduce the realistic risk of cut injuries and that must be in the interest of both, the purchaser and the wearer".
You can email CutPRO® directly info@cut-pro.com