BitePRO® Bite Resistant Arm Guards Protect Vulnerable Professionals
BitePRO® Bite Resistant Arm Guards can effectively reduce the risk of human bite injuries for those working within special educational needs schools, mental health care facilities and psychiatric hospitals. Countless of private security, law enforcement professionals or prison officers have also been bitten by aggressive members of the public.

According to Robert Kaiser, CEO of PPSS Group, BitePRO® Bite Resistant Arm Guards can effectively help protect these professionals from physical injury, risk of infection, soft tissue damage and psychological trauma.
"Our customers and friends from around the world have made clear to us that human bites are relatively frequent in their work environment, and many seek effective protection from the subsequent injuries", Robert Kaiser states.
"Bite injuries can of course become infected and mental health care professionals could subsequently be contaminated with pathogens. Transmissions of potentially life threatening viruses, such as Hepatitis B, Hepatitis C or HIV are also a part of reality", he continues.
A recently retired Prison Officer made contact recently, he made clear he fully understands the psychological distress following such incident, awaiting potentially life changing blood test results: "Looking at the potential and realistic consequences, we must look at all possible options in order to help protect health care professionals from such harm, and bite resistant arm guards are unquestionably an effective option" he states.
He is convinced when saying: "I genuinely believe BitePRO® Bite Resistant Arm Guards can effectively help protect these professionals and reduce the risk of workplace violence related injuries. They are, without question, a very effective approach to improve the individual's personal safety and reduce the danger of severe injuries and infections".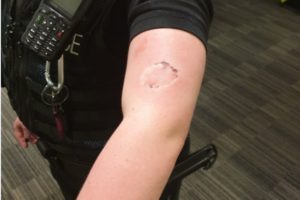 This type of Personal Protective Equipment (PPE) has recently been issued to a number of 'public facing frontline professionals' in countries around the world. The feedback received so far has been extremely positive, and in many cases even emotional, as even parents of special needs children have highlighted the benefits of those protective garments.
Many health care professionals have also reported back stating they are now less anxious at work, and many have admitted that the 'fear' of being bitten again had a significant impact on their level of job satisfaction and even mental health.
BitePRO® is the global market leader in this rather sensitive market, simply due to its exceptional quality, durability and customer service.
In case you have any question (even of personal or confidential nature) please email info@bite-pro.com and speak with one of the company's senior consultants.
Please note a padded (impact absorbing) version of their ever so popular 'Version 1' arm guard model is also available, also reducing the risk and/or severity of bruising.
The 'BitePRO Grab Bag' contains a range of bite resistant arm guards and other garments. This allows staff to choose from array of garment designs, based on their operational requirements at the time or simple design preferences. Purchasing the Grab Bag will save 20% on the cost of buying the contents individually (click here).
For any other PPE (Personal Protective Equipment) please visit our HOME page.