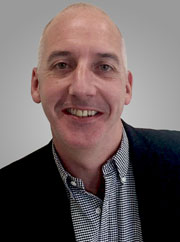 Following an 18 year career within British Armed Forces and security management in the private sector, Tony Welsh has today been appointed as new Operations Director and 2IC of PPSS Group.
Robert Kaiser, Founder and CEO of PPSS Group announced this news, commenting:
"It became absolutely paramount to me that we had to further strengthen this widely respected and ever so growing firm."

"Creating operationally sensible contingency plans and growing my firm's market share and brand awareness is clearly part of my job role. To do so successfully it was crucial to have a 2IC (second in command) by my side to ensure we can cope with whatever business throws at us."
Tony Welsh was previously employed by PPSS Group as Senior Body Armour Consultant in 2015.
Previously, during his time as Custodial Advisor and Military Training Manager Tony Welsh has been overseeing the conducting of correctional training in firearms, tactics and military skills.
He was an advisor to multi-national forces deploying overseas on protective security issues in a custodial environment. He was also responsible for the training of British forces and ensuring policy and procedures were current in relation to BRITFOR Standing Orders and subsequent protocol.
Tony was working closely with ICRC to ensure compliance with Geneva Convention and its additional protocols in order to mitigate allegations, ensuring best practice and surety of detention.
His new job responsibilities will include the control of PPSS Group, effective and efficient staff training, the maintaining of positive working relationship with our international distribution partners, as well as the development of a solid and reliable network around the world.