Bite Resistant Arm Guards
Robert Kaiser, CEO of BitePRO, the world's first dedicated brand, specialised in user friendly and dependable bite resistant arm guards and clothing, said:
"There is no doubt in my mind, scratch and bite resistant arm guards can help protect healthcare professionals, special educational needs teachers, carers and other working with individuals displaying challenging behaviour or others being diagnosed with autism from physical injury, risk of infection, soft tissue damage and subsequent psychological distress".
According to The American Journal of Forensic Medicine and Pathology, bite injuries represent 1% of all emergency department admissions in the United States.
A low figure of 1% of all emergency department admissions is nevertheless an incredibly high number overall.
Special educational needs teachers working with children displaying severe learning disabilities, challenging behaviour or autism spectrum disorder, as well as health care professionals and carers, are aware that human bites can be relatively frequent in their work environment, and many seek protection from the subsequent injuries.
Robert Kaiser continues:
"Bite injuries can of course become infected and mental health care professionals could subsequently be contaminated with pathogens. Transmissions of potentially life-threatening viruses, such as Hepatitis B, Hepatitis C or HIV are also a part of reality. Our cut and bite resistant arm guards have been specifically designed to effective protect you for this very risk".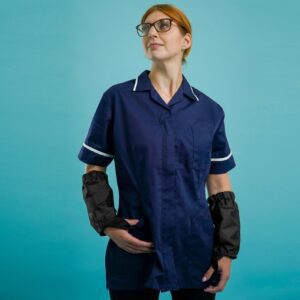 Looking at the potential and realistic consequences, we must look at all possible options in protecting these professionals from such consequences, which in the worst case scenario can include trauma, severe infections and even death following the transmission of an incurable virus.
Our protective garments have proven repeatedly how effective they are in protecting against these risks and thus the potential and realistic consequences of a bite from a human.
Our #1 most popular product, our Bite Resistant Arm Guards 'Version 3' are currently being used by many of the above highlighted professionals, offering them peace of mind, and allowing them to focus on the great professions they have chosen.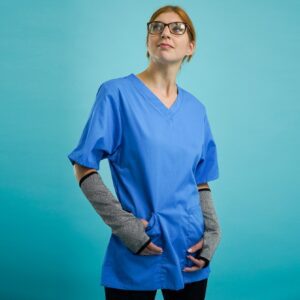 A padded (impact absorbing) version of their ever so popular Version 1 arm guard model is also available, also reducing the severity of bruising. However, our experience is that the #1 priority for our international customers is to prevent human teeth penetrating their skin.
Bite Resistant Arm Guards Guide
The following graphic will help you make the most informative decision. Please click on the image and see our full article for more information and guidance or visit our free guide here: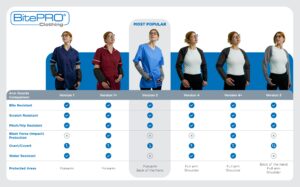 Testimonial
Debbie Townsend, Physical Intervention Training Manager of the UK based Oxfordshire Learning Disability NHS Trust once said:
"Human bites can cause both physical injury, risk of infection, soft tissue damage and psychological distress to staff… our employees are usually aware of the potential for human bites from records of previous incidents, hence preventative steps, including the provision of bite resistant arm guards, are taken."
Please view our complete product range.and for further information please contact us.
Robert Kaiser, CEO