This SlashPRO® Slash Proof Clothing video is offering great visual evidence of the exceptional levels of cut protection our garments offer… and our garments are highly resistant to abrasion and tear too.
Not often will you see a CEO being willing to slash himself with an ultra-sharp knife in order to highlight beyond any doubt that his firm's slash resistant clothing really works.  There are too many other companies who make claims we know are untrue, unrealistic and unsustainable, so it is ultimately YOUR life they are willing to risk.
About SlashPRO® Slash Proof Clothing
We aim to be different and stand out by integrity and high standards. We understand real operational risks and threats, and our protective clothing is reflecting that.
PPSS Group, the company behind both the production of the finished garments, as well as the ground-breaking fabric is globally respected and specialised in the design,manufacturing and supply of cut and slash resistant clothing, as well as hoodies, tops, and jackets in order to help protect homeland security professionals, such as prison officers. law enforcement officers, private security professionals and others from laceration, potential rapid blood loss, subsequent shock and even death.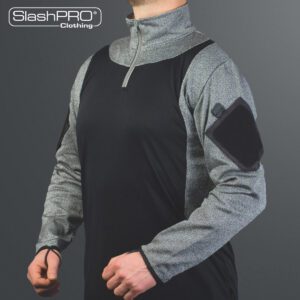 P
This SlashPRO® Slash Proof Clothing video is featuring a brand which has been developed by a team with real operational frontline experience in governments, elite military forces, police and personal protection, and is respected by professionals around the world. Our aim is to reduce the risk of knife and workplace violence related injuries.
Slashing has become a regular occupational hazard for many frontline professionals. The key function of slash proof clothing is to effectively reduce the risk of lacerations and protect key arteries. In some cases, attacks may be perpetrated by highly 'skilled' or trained individuals, who purposefully attack a vulnerable area to incapacitate an officer; others may accidentally slash limbs in a frenzied attack. The objective is that slash-resistant clothing prevents such injury and keeps the wearer of protective clothing fully operational, unharmed—and most importantly alive.
Our high performance cut resistant fabric Cut-Tex® PRO is now also utilised within other sectors, such as:
INDUSTRY: for the flat glass, sheet metal, recycling and other sector, please visit our CutPRO® Cut Resistant Clothing website.
MENTAL HEALTH: for those professionals working within mental health care and are interested in the prevention of human bite injuries, please visit our BitePRO Bite Resistant Clothing website.
For any further questions, please contact us.