My firm's decision in 2019 to replace the polycarbonate-based stab vests with our now highly acclaimed carbon fibre stab vests was based on critical advancements in knife protection technology.
Based on our comprehensive knowledge of the most realistic operational risks and threats faced by many security professionals, we believed strongly that an even more dependable material was needed to effectively protect those who protect us and our infrastructure.
Historically we struggled to see our old polycarbonate-based model pass official spike protection certification, i.e. CAST SP1.
At that time each member of PPSS Group's senior management team agreed that our international friends and customers rightfully deserve higher levels of protection and that spike protection was now deemed 'essential'.
The R&D phase commenced immediately, and following considerable financial and time investments, we concluded that carbon fibre was 'the future', and that it was the only forward-thinking, dependable and long-term solution.
Every test we conducted confirmed to us that carbon fibre was offering far superior levels of stab and spike protection alongside weight and thickness reduction. We finally came to realise that PPSS Group would once again lead the market by vision and innovation, yet also by professionalism and integrity.
We can genuinely claim that our carbon fibre stab vests offer thoroughly field-tested protection from even the most horrendous looking knives, spikes, shanks, machetes, meat cleavers, and of course hypodermic needles.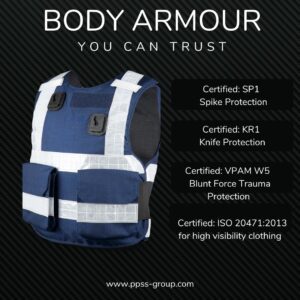 Carbon Fibre Stab Vests: Certifications
CAST Body Armour Standard (2017) : KR1 (Knife Resistance)
CAST Body Armour Standard (2017) : SP1 (Spike Protection)
VPAM KDIW 2004 (18.05.2011) : W5 (Blunt Trauma / Impact Protection)
Certified spike protection is not only essential to correctional and prison officers who face some of the nastiest makeshift edged weapons or spikes daily. Spike protection is of equal importance to all private security professionals, simply due to the types of weapons appearing on our streets.
It is quite shocking when you speak to Police Officers here in the UK. The types of weapons they find when patrolling our streets and 'stop and search' are the ones our security professionals suppose to protect us from. I can only guess we all agree those men and women have a moral right to do so appropriately equipped.
Our carbon fibre stab vests product videos, which feature me personally being subjected to several weapons should be seen as real physical evidence:
Looking especially at many countries, we have to accept that religious extremism, terrorism, social deprivation, immigration and a general breakdown in society have all contributed to the increase of violence.
We got to accept there are some truly evil people walking the streets, carrying 'Samurai' swords, meat cleavers and machetes with 60cm (24") long blades, brutally chopping people into pieces in rage or driven by extremism, often committing multiple homicide or mass murder in the process.
If you wish to read about the "Global Rise of Knife Crime" please read our CEO's article.
Equally/ please feel free to visit our product page and/or contact us. Our Technical Director Colin Mackinnon (27 years with UK police, Counter Terrorism, Surveillance, Covert Ops and Firearms) would be more than happy to visit you at your facility.
Robert Kaiser, Founder & CEO
PPSS Group