PPSS Slash Resistant Clothing
PPSS Slash Resistant Clothing is made out of our very own ultra-high cut resistant fabric - Cut-Tex® PRO - offering absolutely outstanding, tested and certified levels of cut, abrasion and tear resistance.

All of our slash resistant garments have been designed to offer the highest level of cut and slash protection, covering the Radial Artery, Brachial Artery, Carotid Artery, Axillary Artery and Femoral Artery - effectively reducing the risk of rapid blood loss and potential subsequent death following an assault by an edged weapon.
Recent attacks on homeland security professionals and other domestic frontline professionals around the world have highlighted a real need for this type of personal protective equipment (PPE).
Furthermore, the risk of accidental injuries during forced entry operations is also a well reported occupational hazard not to be underestimated.
Please view our products by clicking on any of the above images.
The following performance charts highlight all certified protection levels:
Key Advantages
Frequently Asked Questions
Presentation
Remarkable overall performance - exceptional cut, tear, abrasion and human bite resistance
Amazing durability - even after washing and regular wear
Shielding and protecting vulnerable areas of the human body, in particular: the Radial, Brachial, Carotid, Axillary and Femoral Arteries
Latex® free - meaning PPSS Slash Resistant Clothing can be worn against the skin
What cut protection levels does PPSS Cut Resistant Clothing offer?
ISO 13997:1999 Blade Cut Resistance Level 5 (the highest possible)
EN 388:2003 Blade Cut Resistance Level 5 (the highest possible)
ASTM F-1790 Blade Cut Resistance Level 4
What other levels of protection does PPSS Cut Resistant Clothing offer?
EN 388:2003 Tear Resistance Level 4 (the highest possible)
EN 388:2003 Abrasion Resistance Level 4 (the highest possible)
Where is PPSS Cut Resistant Clothing being manufactured?
At an ultra-modern textile manufacturing facility within the European Union.
Is PPSS Cut Resistant Clothing machine washable?
Yes. 'Stability to washing and appearance assessment' tests confirmed Cut-Tex® PRO can be washed at 40° degrees and also 60° degrees, in order to fight infection and cross contamination.
Can PPSS design and manufacture BESPOKE cut resistant clothing?
Yes, PPSS employs a number of textile design specialists, who will be more than happy to assist you in the design of cut resistant clothing based on your operational duties, risks and threats.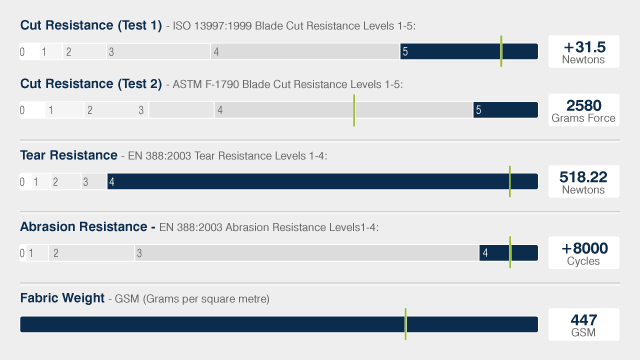 PPSS Cut & Slash Resistant Clothing - video demonstration
Please view Germany's TV Programme Galileo (ProSieben's Knowledge Magazine) featuring PPSS Cut Resistant Clothing & Fabric:
Our range of high performance cut resistant clothing is being manufactured at a strictly ISO 9001:2008 quality controlled manufacturing facility in Europe, resulting in an exceptional design and manufacturing quality.
Our key objective is to help protect operational frontline professionals - such as police officers, prison officers, private security professionals and those working within high secure hospitals - effectively helping improve their personal safety.
Please note that our manufacturing capabilities include the design, development and manufacturing of bespoke cut resistant clothing - based on your operational risks, threats, duties and requirements. Please contact us if you believe this product concept is of interest to your organisation.
Please contact us now if you have you any further questions about
PPSS Cut & Slash Resistant Clothing:
Tel: +44 (0) 845 5193 953
Email: info@ppss-group.com