We can all agree that it has been a tumultuous year for frontline security and emergency services.
From enforcing lockdown restrictions, heroically treating patients with Covid, being called out to homes during a pandemic for health emergencies, keeping riots under control, losing jobs in the events and hospitality security, handling Covid outbreaks in prisons, and even stopping fights in supermarkets.
They are human beings, on the front line doing their best to keep us safe, and maintain law and order, during times that are unprecedented in modern memory. But still, frontline security and emergency services are not being given the right protection while keeping their country safe.
Paramedics Under Attack
I was moved to write the article after watching this heart breaking testimonial from paramedics Mick Hipgrave and Deena Evans following being stabbed during a routine welfare check:
This is just one story in thousands, in the West Midlands alone, the Ambulance Service is handing out body cameras for all frontline emergency staff after over 1,110 were assaulted in 2020. Physical attacks have risen by over 60% over the last five years, whilst verbal assaults have more than doubled.
We believe that body cameras are an amazing way to document the attack, but like most paramedics, they are not equipped with the right stab resistant body armour and are at risk from stabbings with needles, kitchen knives and blunt force trauma from household objects. A camera can't stop the physical and psychological damage of an attack. Some individuals will commit an act of violence if they are being filmed or not.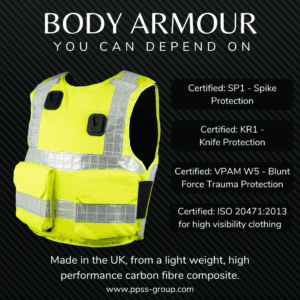 It is Not Just Part of The Job
As Max Hill QC, Director of Public Prosecutions, said back in 2019: "Emergency workers provide a vital public service – the fact they endure vile abuse like spitting and even physical assault in the course of their duties is appalling and unacceptable. These attacks must never be considered as 'just part of the job'.
Back then there were 50 assaults on emergency workers per day, and as public unrest has continued to rise there is new legislation regarding sentencing following assaults to emergency workers.
Here at PPSS Group, we see it as our duty to protect those who protect us, and to support businesses and organisations in equipping their teams with the best and educating them in how best to risk assess for the need of body armour.
Keep fighting the good fight… and feel free to contact us.
Robert Kaiser
CEO, PPSS Group