SlashPRO® Slash Resistant Clothing is effectively protecting private and homeland security professionals, law enforcement, prison, border control, immigration and customs officers.
Please visit our ONLINE SHOP.
From the point of the employer, slash and cut injuries can often lead to legal and financial repercussion.  From the point of the injured professional, and depending on the severity of such injury, it can often lead to long lasting emotional scars, ongoing distress, physical pain, and in the very worst case scenario death.
Common PPE (Personal Protective Equipment) or cut resistant clothing used by the above sectors is not working. It is either not wearable/user-friendly or do not offer sufficient cut protection, and that is a fact.
In order to create our highly acclaimed slash resistant clothing range we have developed our very own high performance cut resistant fabric Cut-Tex® PRO offering truly dependable levels of cut protection.  In 'standards' terms, our fabric is offering ISO 13997:1999 Blade Cut Resistance Level 5 (the highest possible). EN 388:2016 Blade Cut Resistance Level E and 5 (the highest possible) and ASTM F-1790-05 Cut Resistance Level 5.
Cut-Tex® PRO does exactly what was needed in order to design, develop and manufacture slash resistant clothing your safety and life can depend on. It effectively reduced the risk of workplace violence related cut injuries, subsequent rapid blood loss, shock and loss of life.
SlashPRO® Slash Resistant Clothing is extremely user friendly, comfortable, machine washable, Latex free and 100% concealable (subject to garment design).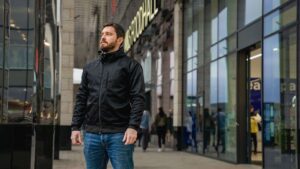 Slash resistant clothing protects the lives of security professionals
Attacks on frontline professionals are occurring rather frequently.  Attacks have made the headline news and deserve our full attention:
There are many more reports of domestic frontline professionals being slashed or suffering from major cut injuries raising the question why slash resistant clothing hasn't been issued more widely.
Images of Slashing Injuries (be aware of graphic content!)
The following images offer a dreadful view on what type of injuries some of our colleagues have suffered whilst protecting our countries, infrastructure, evets or citizens: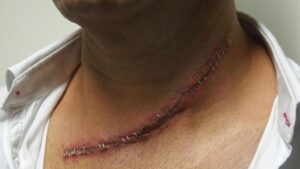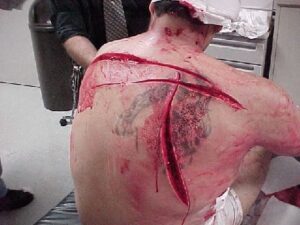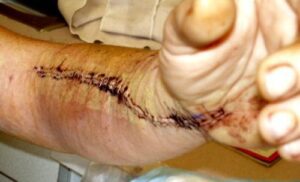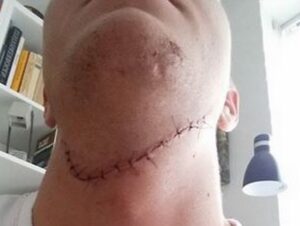 These images are most certainly not on display here in order to shock, scare monger or to be 'utilised to create sales', but rather to emphasise the severity of some cut and slash wounds, and the urgency to make a difference to the safety of homeland security professionals moving forward.
Unless having undergone extensive edged weapon training, many or most frontline professionals will, by instinct, lift their arms and hands during a potential hostile situation, in order to protect the face and head. This is nothing to be ashamed of. In fact it is absolutely normal, and only highly trained operators would respond differently and more effectively.
However, we must acknowledge that this 'normal' and 'natural' action would expose an extremely vulnerable area under your arms. A cut, injuring the auxiliary artery under your arms, can lead to rapid blood loss and even death.
Prison, police and security officers not wearing slash resistant clothing often receive cut wounds along the forearm or open hand.  These wounds are the most common injuries and classed as 'defensive wounds', often seen as evidence in the court of law that the wearer was protecting him or herself, rather attacking a subject.
The Solution
Subject to specific garment design, SlashPRO® Slash Resistant Clothing protects areas that remain exposed even when wearing body armour (bullet proof vests or stab vests).
Specific areas of our body are at notable risk:
If you wish to speak with us about how our slash resistant clothing can help protect your security teams, please contact us.