About CutPRO® Cut Resistant Workwear
CutPRO® Cut Resistant Workwear is specialised in the design, production, and supply of protective clothing to industries such as flat/float glass, sheet metal, recycling, and air conditioning.
We aim to reduce cut injuries and we are proud to be pushing towards zero cut injuries in your industry.
We use our very own high performance cut resistant fabric Cut-Tex® PRO. Each thread that goes into Cut-Tex® PRO is spun to specific tensions using a carefully chosen ratio between all fibres to ensure that our garments are made with the highest performing single layer of cut resistant fabric on the market.
Please be assured, we will work closely with you to ensure that all your cut resistant workwear needs are met. 97% of our custom orders reach their destination within 12 weeks.
What our customers say about CutPRO® Cut Resistant Workwear
Splendor Glass Products is a well established company that specializes in the production of custom shower doors.  Their comment is immensely appreciated:
We were in strong need of a provider of cut resistant workwear for our employees here in Toledo, Ohio.

CutPRO® was very helpful in quoting and fitting us with a product they already had in their line up and we have been very pleased with the results.

The thumbhole sleeves keep the protective material in place when moving panels from one place to another. These shirts are also easy to maintain as the washability of what they have produced is the best we have come across… they hands down are the best buy on the market.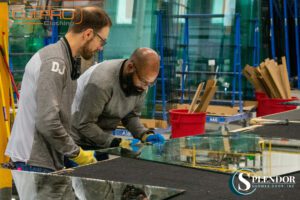 CutPRO® is a British Safety Industry Federation (BSIF) Registered Safety Supplier Member.  This means when you purchase cut resistant workwear from us you make the right choice for your team.  BSIF members sign a binding affirmation that they undertake to supply only safety equipment that fully comply with the standards made relating to those products.
Worldwide Shipping
We offer worldwide shipping, so you can equip your teams with our cut resistant PPE and cut resistant clothing for glass workers wherever they are in the world.
Workmanship Guarantee
We can assure you of the superb quality of our products. With a six month workmanship guarantee, our breathable, comfortable, and ultra-reliable clothing will stand up to any challenge.
Please contact us in case you have any questions. We would be delighted to hear form you and gladly help you to effectively reduce the risk of cut injuries at your company.