SlashPRO® Slash Resistant Gloves are being manufactured using our very own high performance cut resistant fabric Cut-Tex® PRO. They are offering certified and thoroughly field-tested levels of cut protection to those operating in higher risk environments.
As a manufacturer of some of the world's most advanced stab resistant vests and slash resistant clothing, we believe it is of greatest importance to offer this type of product too.
After evaluating all facts and figures we feel that our Cut-Tex® PRO cut resistant fabric is the ultimate choice for our slash resistant gloves models, offering the following BS EN 388:2016 performances:
Blade Cut Resistance Level  5 (the highest possible)
Abrasion Resistance Level 4 (the highest possible)
Tear Resistance Level 4 (the highest possible)
Puncture Resistance Level 4 (the highest possible).
All models are available with, or without effective protection from hypodermic needles.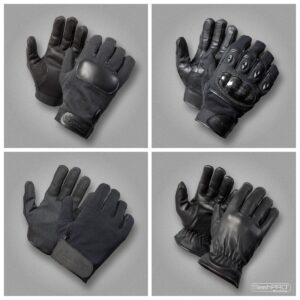 SlashPRO® Slash Resistant Gloves | BlueSheepdog.com
A while ago we have sent a pair of our superb 'ARES' model to BlueSheepdog.com (please click here) , a U.S. based police training site dedicated to officer safety in order to conduct an independent test. The men behind BlueSheepdog.com go way beyond the basics of the law enforcement academy and offer officers the training they need to become safer, more effective cops. They decided to put our slash resistant gloves to the test in order to find out how good they really are.
They actually really tried to destroy them with a bunch of some serious tactical knives.  Well we didn't expect anything less… in fact we thought 'good on them'.
The conclusion they came to was that all slash resistant gloves, just like our 'ARES' model are a little bit thicker than normal average fashion gloves, and yes you do lose some fine dexterity while wearing them. However they made it very clear that in their opinion none of the gloves provided by our competitors (using different types of protective fabrics) were anywhere near as comfortable enough for constant wearing.
They felt the best use for slash resistant gloves is clearly when searching other human beings (especially prisoners or hostile members of the public during an arrest) as there is a pretty good chance of running into something sharp, and this type of gloves can prevent a trip to the hospital for stitches and pathogen exposure treatment. Be assured neither are fun.
SlashPRO® Slash Resistant Gloves | The Review
So, what good is a review of protective gloves if the party testing the gloves don't pull out a knife (or in this case four of them) and try to cut through our gloves?
As you can see in their video (check their website), the guys from BlueSheepdog.com took multiple swipes with different knives and our high performance slash resistant gloves did very well.
They used each knife to cut the palm side. All of the knives cut through the palm grip and non-protective nylon material easily. However, none of the knives penetrated the Cut-Tex® PRO fabric.
The final knife (the CRKT Triumph) did manage to break through the Cut-Tex® PRO lining from the back side of the glove. But, when we spoke to BlueSheepdog.com we all agreed that we cannot consider the gloves to be a failure. Just like bullet resistant vests, cut resistant gloves provide an exceptional level of resistance and protection… but a bullet resistant vest can be defeated too, that's simply subject to the speed, the velocity, weight and several other technical aspects of the round being fired.
The concluding reassuring statement by BlueSheepdog.com was as follows:
"The gloves withstood more than can reasonably be expected of them. I think the 'ARES' Slash Resistant Gloves by PPSS Group are a real high quality item that offer a brilliant and reliable level of cut protection. When viewed as a tool, not a magic solution, they are definitely worth the purchase."
I can certainly live with this conclusion.  It is once again another great endorsement from frontline professionals with several years of operational experience highlighting that whatever my firm designs, develops and manufactures is 'right' and 'good'.
The 2020 SlashPRO® Slash Resistant Gloves Catalogue: click here
Please note we can only service minimum order volumes of 10 pair, but we are happy to put you in touch with one of our international distributors and their online shops.