Many of us will remember either times, incidents or locations where we have seen law enforcement and police officers wearing extremely cumbersome, very heavy and highly restrictive bullet resistant vests. Now stab resistant vests become of greater relevance to police officers, due to the ever changing risks and threats faced by those men and women.
There certainly is a time and place for such body armour, offering the wearer protection from all sorts of firearms and rounds of different calibres, weights and velocities.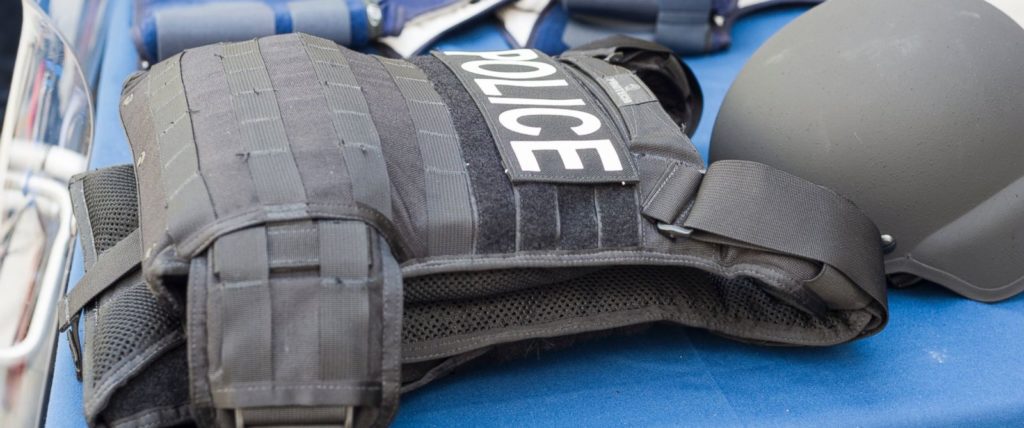 However, times have changed… society as a whole has changed… and the levels and types of everyday violence have changed too. Without sounding all negative or even depressive, the reality is we live in a society dominated by a serious lack of respect, especially for authority.
Along with the above, the operational risks and threats faced by today's law enforcement officers have also altered, especially in countries with strict gun controls and laws prohibiting the purchasing, carrying and firing of such weapon.
Recent terror incidents and crimes continue to highlight the need for dedicated stab resistant vests, offering high levels of protection specifically from knives and other types of edged weapon, such as machetes and box cutters.
One particularly horrific incident involving a 10" (25cm) blade comes into my mind.  The following occurred on 6 October 2018.
On that dark day local police received an emergency call to a house in Liverpool Road in the London Borough of Islington.
The caller said that there was a fight in progress between two men. This was a lie, there was no fight and police phone enquire later revealed the caller was in fact 20-years old Alex Traykov, who lured officers with a bogus emergency call.
Four local officers went to the scene, all doing their duty to help keep their community safe. What these officers could not know, is they were being lured to a deliberate trap and the man who had called them was waiting, armed with a knife, ready to commit a terrifying knife attack.
As soon as the police officer arrived, Alex Traykov raised his hand revealing a large knife. He then brought the knife down, cutting one officer's head and her hand. The officer fell down the steps and the attacker began slashing at the other officers. He then swung the knife at another officer and struck him to the face, the blow disorientating him. Traykov continued the deadly attack and moved forward, stabbing the officer's multiple times with the knife.
All four officers were injured and suffered from either stab or slash wounds in this terrifying attack.
One of the injured officers later said:
'I joined this job to protect people and uphold the law. My colleagues and I did our duty on that night, and we were subjected to an unprovoked savage attack. We all suffered injuries as a result, but fortunately we were able to fight back and ultimately we survived."
A second officer stated:
"Who can say how we have been injured mentally and whether we will ever come to terms with what we experienced. I have never been subjected to such a violent and determined attack in the entirety of my sixteen years of service, and I hope that no other officer ever has to endure such gratuitous violence."
The sad fact however is… other officers will face such an attack at some point in the future.
In fact, it was just a very few days later when we heard the news that a man wielding two knives attacked police officers outside a police station adjacent to Brussels' Grand Place. The attacker was then shot.
As I am sure you can well imagine, the list of attacks on law enforcement officers involving some type of edged weapon is a rather long list.
Knife attacks on police officer will not stop.
Society and the earlier on highlighted lack of respect, as well as the current levels of knife crime in general will not change in the foreseeable future.
Too many factors play a role here.  I have tried to explain the complexity of 'knife crime' in one of my more recent articles, titled: "The Global Rise of Knife Crime – Why?"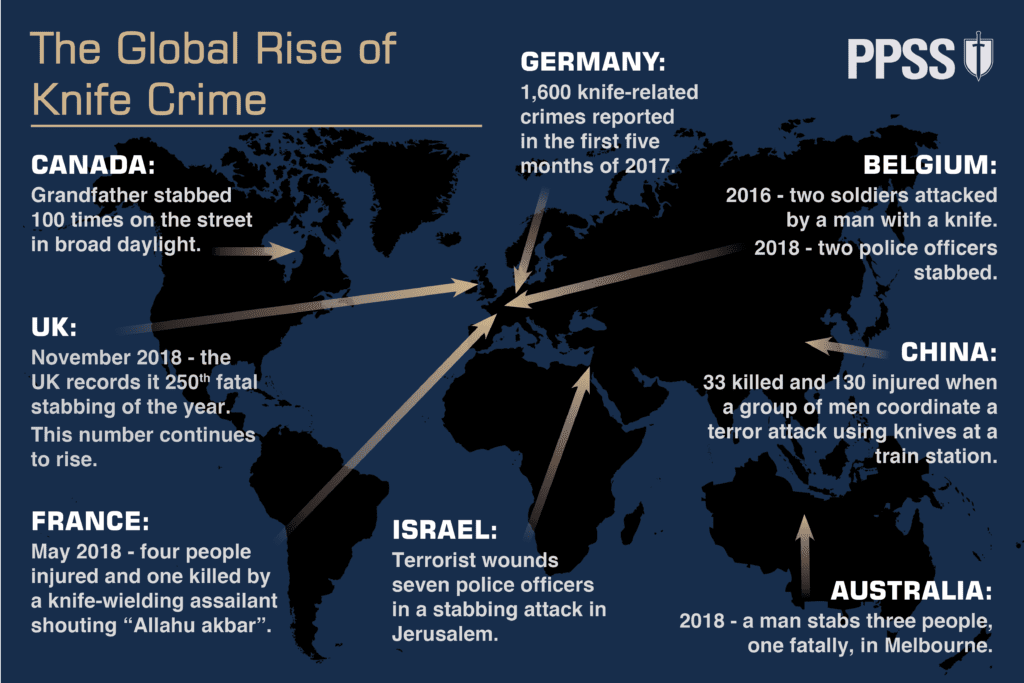 I wholeheartedly believe that lightweight and operationally sound stab resistant will reduce the risk of physical injury when suffering from any type of assault by someone, who carries a knife and who is willing to use it.
Some will do so because that was their plan and intention right from the start. Some will do so to avoid identification or arrest.  Others… well it has simply become a part of the life and circles, they have chosen or ended up in.
Recommending stab resistant vests does not mean we suggest you or your colleague is in immediate danger and neither does it mean you should get paranoid or scared every single day you put your uniform on and start your shift.  I simply say that you will have a higher chance of remaining unharmed in the unlikely, but nevertheless possible, case of something going wrong.
I have said it many many times before… wearing stab resistant vests can be compared to wearing a seat belt when driving a car. We do not put the seat belt on because we believe we are going to have an accident today or because we are questioning our own driving skills. We are simply acknowledging the fact that there is an exceptionally small chance that we might crash. Yet, if this exceptionally small chance becomes reality, you have increased the chance of survival by wearing a seat belt. There is no question about that!
PPSS Group have designed, developed and manufactured stab proof vests offering the highest level of protection from edged weapon, hypodermic needles and blunt force trauma.  Weighing just 2.5kg and being just 5mm thin this type of personal protective equipment (PPE) has recently become an essential tool to combat especially those armed with a knife.
Please also visit our dedicated SlashPRO Slash Resistant Clothing website.
Robert Kaiser, CEO
PPSS Group