PPSS Stab Vests will once again be available to trial and test at the NAHS Annual Conference & Awards. This year's event will take place from 2 – 3 November 2022 at the University of Birmingham.
Healthcare and hospital security professionals from all over the country will once again be able to listen to a range of critical healthcare security-related topics and participate in great networking opportunities.
Certified, meaning officially verified protection from knives, shanks, hypodermic needles, and blunt force is absolutely vital to those professionals.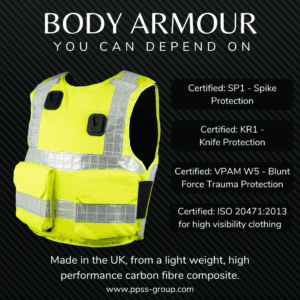 The reality is that both patients and visitors can become extremely aggressive at times, for a variety of reasons. Some may be intoxicated, some might suffer from mental illnesses and others might have extremely political or religious views.
Robert Kaiser, CEO of PPSS Group states:
"It doesn't matter how much we would like to change human beings. The fact is that some individuals are and will always remain extremely aggressive. Wearing the right stab vests offering certified protection from the most realistic risks and threats is therefore sadly essential."
Why are PPSS Stab Vests so popular?
PPSS stab vests have long been the global leader, simply due to its exceptional and dependable performance levels.
Not many CEOs or company leaders are willing to deliver truly astonishing live demos, to back up any claims they make, and therefore ensure a customer wholeheartedly knows he or she can truly depend on their new stab vests.
Robert Kaiser continues: "It is a sad fact that too many body armour manufacturer get away with making unsubstantiated claims, which in some cases may well put the wearer of such equipment at risk."
PPSS Group's Technical Director and future Director of Business Development will both be present to discuss the need for appropriate protection with all delegates.
Both will also deliver a series of live demos, which will highlight once again the incredible protection that is now available to all healthcare security professionals.
For any further information please  contact us