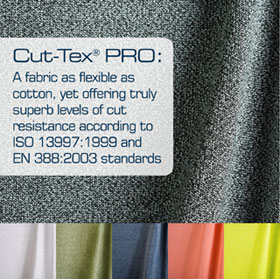 Cut-Tex® PRO is an ultra-high performance cut resistant fabric, which was launched in 2012. It is now available in five additional colours to better fulfil the needs of textile and clothing manufacturers.
Cut-Tex® PRO is with immediate effect also available in 'optic white', 'olive green', 'navy blue' and in hi viz look like 'yellow' and 'orange'.
PPSS Group, the company behind Cut-Tex® PRO claims it is the world's best cut resistant fabric, which is reinforced by passing several of the most stringent European and International Standards for cut, tear and abrasion resistance.
Additional test reports confirm the durability of this fabric is clearly outperforming other fabrics such as Kevlar® and other aramid based technical fabrics.
Comfortable to wear, machine washable and of truly exceptional strength and durability, this ground-breaking material is now being used to line uniforms, tactical gear or other corporate work wear.
"It acts as a shield and protects vulnerable areas of the human body, in particular the Radial, Brachial, Carotid, Axillary and Femoral Arteries. The cutting of any of these arteries could lead to rapid blood loss", says Robert Kaiser, CEO of PPSS Group.
"Dealing with potentially hostile and intoxicated members of the public is not always easy, and we must do everything to improve their personal safety".
"We invite tactical apparel manufacturers to contact us in order to help them design and produce personal protective clothing that is specifically designed around the precise operational threats, risks and duties of their valued customers".
"I genuinely believe that lining specific areas of a uniform with Cut-Tex® PRO, means effectively shielding the most vulnerable areas and key arteries, which without any question will help reduce the risk of accidental cut injuries, malicious workplace violence related slash injuries and even death". This goes beyond just professionals who work in hostile environments.. but also workers in the glass and metal industries.
CutPRO® is PPSS Group's newest brand created for industry and is made from Cut-Tex® PRO. Many garments which require a high level of cut resistance including CutPRO® cut resistant trousers. Feel free to visit the site for more information or visit www.cut-tex.com for more information.