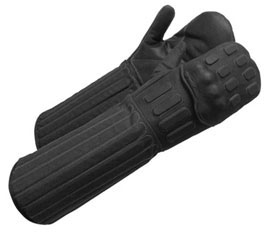 UK based PPSS Group have launched what they claim is the world's toughest forced entry mitten.
The 'ZEUS II' mittens are a further improved and version of the original ZEUS mitten, now also featuring a very high level of flame and heat protection.
According to Robert Kaiser, CEO of PPSS Group, their key objective was to create once again a piece of personal protective equipment (PPE) that is 'as good as it gets'.
World famous Nomex® is offering an excellent level of flame protection.  Cut-Tex® PRO one of the toughest man made fabrics is responsible for the highest level of cut, tear and abrasion resistance.  A unique type of polycarbonate is offering crucial protection from severe puncture wounds, following the 'crashing' of broken glass onto ones hands.
Performance Specifications:
EN 388:2003 Cut Resistance Level 5 (the highest level possible)
EN 388:2003 Puncture Resistance Level 4 (the highest possible)
EN 388:2003 Abrasion Resistance Level 4 (the highest possible)
EN 388:2003 Tear Resistance Level 4 (the highest possible)
EN 407 5.1 Burning Behaviour – Flame Resistance Level 4 (the highest level possible)
EN 407 5.3 Convective Heat – Heat Resistance Level 3 (forearm) and level 4 (palm of hand)
Carbon knuckle protection
Polycarbonate sheets along the tops of all fingers, back of the hand and entire forearm area, offering additional puncture protection (from fallen glass e.g. during forced entry operations)
Robert states: "Whatever type of equipment my firm has created so far, it has always been of outstanding quality and is always offering the highest possible level of protection possible".
"We believe that SWAT, correctional and law enforcement officers engaging with seriously hostile members of the public deserve to be equipped appropriately.  These men and women must be issued with the very best protective equipment and clothing out there".
"Too many of these highly respected frontline professional still suffer from severe cut and puncture injuries following forced entry operations, often the result from broken glass, doors and windows. Many of these injuries can result in long term disabilities".
According to Bill Geraghty, President of PPSS Group's North America Operation, this type of PPE is exactly what has been requested by many of his customers within the North American homeland security sector.