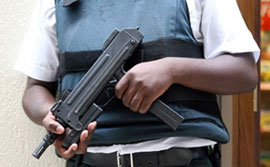 The security industry is bigger than what it has ever been in South Africa. There are nearly 9,000 companies and 400,000 registered active private security guards. According to Wikipedia and other sources that's more than the police and army combined.
Robert Kaiser, CEO of Body Armour Consultancy
PPSS Group thinks the growth in the industry is attributed to facts like weak policing or maybe ineffective policing, and it created the opportunity for more and more private individuals to move into the market.
However, he also is highlighting that in recent years, South Africa has stepped up efforts to tackle crime, one of the country's worst social ills. Security officers working in the Assets in Transit industry now have to do extra specialisation courses approved by the Private Security Industry Regulatory Authority (PSIRA) such as Cash in Transit, Armed Response, National Key Points, Fire Arm Competency Course, and recently the PSIRA has become much stricter about the registration of Security Personnel.
Nevertheless, from April 2011 to March 2012 there were 15,609 murders in South Africa, as well as 64,514 sexual offenses and 101,203 cases of aggravated robbery.
Kaiser states "The fear of such crimes is urging more and more residents to seek help from sometimes heavily armed security professionals, who subsequently have a pretty difficult job to do. I have only been once to South Africa (Sandton) many years ago, and what I have seen gave me a rough indication what life will be like as a security guard or armed response officer."
"I am sure the news of a security guard being shot, stabbed or killed in any other way won't come as a major surprise to a South African resident when it happens, but to us in the UK, Western Europe, North America or Australasia it is still something that shocks us every time such incident occurs."
The following news snips are highlighting just four recent fatal incidents:
He continues: "The right personal protective equipment (PPE) can without question help to reduce the risk of injury or death, but not many owners of security firms in South Africa are willing to pay for high performance bullet resistant vests, but rather chose to buy the low cost (cheap) and poor quality body armour which are shipped in the thousands from China and other countries where 'human rights' or 'quality' or 'reliability' are still 'swearwords'… or something that is not of their agenda!"
However many ex Soldiers, Special Forces (SF), Private Military Contractors (PMC) and other security and protection experts are based and have settled down in South Africa, and these professionals who look after some high profile corporate, political or cultural leaders are much more perceptive when it comes to wearing what I would class as the very best bullet resistant vest out there.  These professionals do understand that you simply will 'get monkeys if you pay peanuts'.
Kaiser understands the financial pressure many of us are currently under, but when it comes to the purchase of a potentially lifesaving piece of equipment he strongly suggest we need to think at least twice:  "We have to accept that a Rolex is more expensive than a cheap watch, a Rolls Royce is more expensive than a Skoda and a trip to Kaiteriteri Beach in New Zealand is more expensive than a trip to the local coast… unless you are lucky enough to live nearby"
"Real security/protection experts also understand that the best is just good enough for them.  Wearing a body armour at 40 degrees Celsius heat for 12+ hours can be a real physical and mental challenge… hence the comfort, thickness and weight criteria is on top of their priority list when looking for a new equipment."
When PPSS Group launched their concealable bullet resistant vest model CV1 back in 2011 they were certain they had created the very best the world had seen.
This model was tested by some close associates of mine in countries around the world in all types of temperatures and condition.
Timm Smith (BA LLB) CEO of Ronin South Africa Close Protection & Remote Medic Training states:
"To date, we have deployed the vests in both close protection and paramedic roles. We found the vests to be very low profile and this aspect allows for a greater level of diplomacy, as one is not perceived to be "wearing body armour". Another excellent quality of the vest is the management of heat utilising "Outlast" space technology, as you can imagine this is of utmost importance in South Africa. We strongly recommend this product line in our academy and have no hesitation in recommending it to any professional in need of low profile, yet highly effective, covert body protection."
PPSS Group's video clearly highlights that a high performance bullet resistant vests that weighs less than 1.8kg and is 7mm thin, can a) stop a 9mm parabellum and b) allow the wearer to continue operating/communicating a very few seconds after the shot was  fired… from as little as 3 yards/meter distance!
The shot is fired after 5:05 minutes:

Kaiser will most likely not forget the day he got shot and says :
"After you have watched the above video you might say that I have been in a bit of pain after the round hit me, and you are certainly right… BUT… my response would be "at least there was no round ricocheting in my rip cage". Our intention during the entire R&D process was not to create something to prevent injury… but rather something of exceptional quality and performance that reduces the risk of death during operational duties."
Certified to NIJ Level IIIA (NIJ Std 0101.04) our PPSS Bullet Resistant Vests also offer additional and significant protection from Tokarev Ball 7.62 x 25mm and Makarov 9 x 18mm, upon special request from our Eastern European clients and friends.
Temperature regulating Outlast® space technology is making our bullet resistant vests the ideal choice in extremely hot, something South Africa is very well known for.