Product:
PPSS Stab Resistant Vest - Covert
Model #:
400102 (5mm KR1)
Protection:
Stab + Blunt Trauma + Needle Protection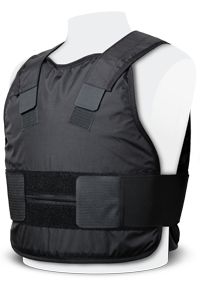 PPSS Covert Stab Resistant Vests are fully concealable and discreet. They are usually worn underneath clothing, and effectively help protect the wearer against attacks from edged weapons, hypodermic needles and blunt force trauma injuries.
Based on our own operational frontline experience and extensive research, we can only stress that an impact based assault in most countries is more likely and frequent than an attack involving an edged weapon or firearm. Nevertheless blunt force trauma injuries can lead to organ failure, irreparable injuries and long term disability.
Please note the outer covers are made out of the lightest available materials to further aid the concealability of this stab resistant vest.
Please view our latest product development:
Tabard Style Hi Viz Stab Vests - The Non-Confrontational Design Option

Features & Benefits
Concealable and lightweight
Shields the spine, ribs and all vital organs
Comfortably worn
Easily put on and taken off within seconds
Indefinite lifespan (compared to Kevlar's 3-5 year lifespan)
Presentation
Who is this product suitable for?
5mm KR1 model
Anyone dealing with high risk individuals, such as potentially violent or aggressive members of the public, drug users or dealers
Those operating in geographical areas known for criminal activities, drugs, alcohol misuse and disturbances
Lone workers frequently faced with frustrated and disappointed customers
Home or office visitors that enforce laws and regulations, police the system or deliver bad news
Individuals or teams that secure and protect property, events and people
Inside
5mm thin polycarbonate sheets, moulded to the upper
body shape
Incorporates impact protective foam comfort layer
Cover
High quality covert cover made out of Cordura® - features a high-tech spacer fabric providing the highest level of comfort when worn in hot and humid environments
Stab protection
Tested and certified to HOSDB Knife Resistance Standard KR1
Blunt trauma protection
Excellent level of protection from a kick, punch or blow - or blunt objects such as piece of iron, chair, table, bricks, etc.
Needle protection
Excellent level of protection from narrower blades &
hypodermic needles
Tested energy level 1
24 Joules - 7mm Maximum Penetration
Tested energy level 2
36 Joules - 20mm Maximum Penetration
Clothing care
Protective fillers easily removed so the outer cover can be machine washed


Please contact us now if you have you any further
questions about PPSS Stab Resistant Vests:
Tel: +44 (0) 845 5193 953 | Email: info@ppss-group.com