Cut-Tex® PRO is a ultra-high performance cut resistant fabric. It has been developed following thousands of cut injuries in all types of different workplaces around the world.
Please visit our dedicated website:  www.cut-tex.com
It would of course be a relatively simple procedure to protect against cuts if it were not for the issue of mobility, flexibility and comfort.
A solid steel shirt for example would provide great protection, but keep the worker from being productive and mobile, never mind the issues of weight and over heating of the body and hygiene.
For many years leather was accepted as the best protection against cut related injuries, but a real need for the best protection called for thicker leather which left the users with a minimum of dexterity and virtually no sensitivity.
However, PPSS Group's objective is supply you with a fabric that can protect your clients or workforce.  But, it must still allow them to continue to do the work they are doing with a minimum of discomfort and mobility restriction.
Cut-Tex® PRO Cut Resistant Fabric – Performance
We are extremely proud to inform you that Cut-Tex® PRO Cut Resistant Fabric is an ISO 9001 quality controlled, tested and certified knitted fabric offering truly outstanding ISO 13997:1999 and EN 388:2016 blade cut resistance level D (previously level 5). It is also offering ANSI/ISEA 2016 blade cut resistance level A5, alongside the highest levels of tear, puncture and abrasion resistance according to EN 388:2016.
Test reports are of course available on our above highlighted website.  Fabric samples can also be made available.  Please email us:  info@cut-tex.com
Providing your, or your customers workforce with high quality and durable protective clothing which is incorporating our durable and fully machine washable Cut-Tex® PRO cut resistant fabric, can without question effectively protect their bodies from potentially horrendous cut injuries.
Serious cut injuries cutting any of the main arteries can of course lead to rapid blood loss, subsequent shock and potentially even death.
In my professional opinion all homeland security professionals (police, prison, border force, immigration, customs etc) as well as private security professionals dealing regularly with potentially aggressive, hostile and intoxicated members of the public operate in a reasonably high-risk environment. The risk of workplace violence related knife and cut injuries is realistic.
Offering Cut-Tex® PRO cut resistant fabric to textile manufacturers, means enabling them to incorporate this truly outstanding and highly acclaimed material into tactical clothing, uniforms or any type of workwear, offering protection to especially vulnerable areas that really require such level of protection.
There is no doubt in my mind that effective health and safety training and the highlighting of operational risks and threats to public facing professionals is of great importance. However, the matter of fact is though, that injuries will always occur as long as human being exists. Our focus can be compromised by a number of variables.  Amount of sleep, level of health, exhaustion, mental fatigue and the individual's job satisfaction will effect a person.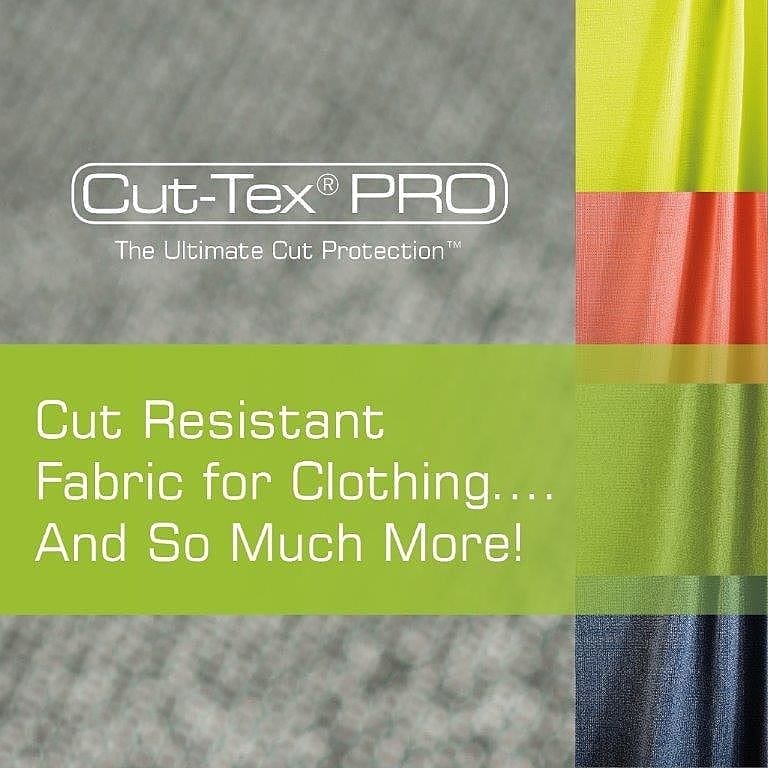 Cut-Tex® PRO Cut Resistant Fabric – Global Applications
Cut-Tex® PRO Cut Resistant Fabric is available to uniform, workwear clothing and tactical apparel manufacturing firms around the world. Additional sectors are now taking advantage of the superb protective properties of Cut-Tex® PRO, it's reliability, durability and quality:
SlashPRO® : Slash Resistant Clothing designed to protect homeland security professionals all over the world.  Online Shop:  www.slash-pro.com
BitePRO® : Bite Resistant Clothing, protecting professionals working in psychiatric or mental health care facilities and special educational needs schools. The objective is to protect them from human bites and subsequent infections.  Online Shop:  www.bite-pro.com
CutPRO® : Cut Resistant Clothing, protecting those working within the flat glass and sheet metal as well as recycling industry.  Online Shop:  www.cut-pro.com
However, Cut-Tex® PRO has now found its way into additional sectors:
Theft proof bags and travel cases
Ice hockey
Animal welfare
Designer clothing
Etc.
Contact us to discuss how Cut-Tex® PRO can benefit you. or if you wish to purchase our cut resistant fabric. Please visit email my team info@cut-tex.com or call us on +44 (0) 845 5193 953
—
For intellectual property/copyright reasons, Cut-Tex® PRO labelled products cannot be sold and delivered to Germany