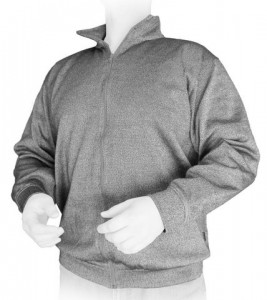 Our high performance cut/slash resistant shirts on display at last month's SEECAT 2012 (Special Equipment Exhibition & Conference for Anti-Terrorism) in Tokyo, Japan… business can't get much better sometimes.
What a fantastic event it was!
On display at the Tanizawa Corp. booth was our sporty looking PPSS cut resistant zip-up sweater, as well as our PPSS cut resistant turtleneck jacket, long underwear and other garments made out of 100% Cut-Tex® PRO designed, developed and manufactured by UK based PPSS Group.
All visitors seem to agree… these garments could be the most comfortable looking piece of armour out there.
[youtube_sc url= http://www.youtube.com/watch?v=VmVUqrQ8hyg -Rg width=600 rel=0 fs=1]
Cut-Tex® PRO, the fabric used to make these garments, is designed to meet the highest international standards of cut resistance, but I would like to emphasize that this is a "cut-resistant" not "cut-proof shirt."  So don't buy one then start taking circular saws to the chest, or you're going to have a bit of an issue!
[youtube_sc url= http://www.youtube.com/watch?v=4JMHDqM7aNc -Rg width=600 rel=0 fs=1]
The sweater and jackets on display are currently unavailable in Japan but on release (early 2013) are expected cost less than 25,000 yen (US $300).  Negotiations with our future licensed distributor in Japan are currently ongoing.  An executive decision is expected to be made within 4 weeks!
Even if you're not traveling the world solving entire terrorist plots all on your own… PPSS cut resistant clothing still has a practical application in law enforcement, correctional facilities, security guarding, mental health care facilities, taxi drivers, civil enforcement and similar sectors.
What areas of your body our cut/slash resistant clothing can protect:
Read this Cut Resistant Clothing blog to find out more about this industry.
Until then please feel free to contact my team here in the UK and call +44 (0) 845 5193 953 or email info@ppss-group.com, or contact the closest licensed distributor where ever you might be based!