PPSS Group's CEO Robert Kaiser has once again highlighted his firm's key objective to further improve the personal safety of prison and correctional officers, and cut resistant clothing must play a part he says.
Strongly believing that thoroughly field tested cut resistant clothing can make a significant difference to the security and well being of officers he has very recently written an article, titled "Cut Resistant Clothing Can Help Improve The Safety of Prison And Correctional Officers": https://www.slash-pro.com/blog/23_Slash-Resistant-Clothing-Can-Effectively-Help.html
Recent news headlines back up his claim that slashing has become a regular occupational hazard for prison and correctional officers over the past few years.
The main purpose of slash resistant clothing
The main purpose of cut resistant clothing is to successfully reduce the risk of lacerations and also protect key arteries and blood vessels.
Attacks may be committed by skilled or trained inmates, who deliberately attack a vulnerable area to incapacitate the officer, and others may unintentionally slash limbs in a frantic attack.
The key objective is that cut resistant clothing foils such injury and keeps the wearer of such personal protective equipment (PPE) operational, unharmed and even more importantly alive.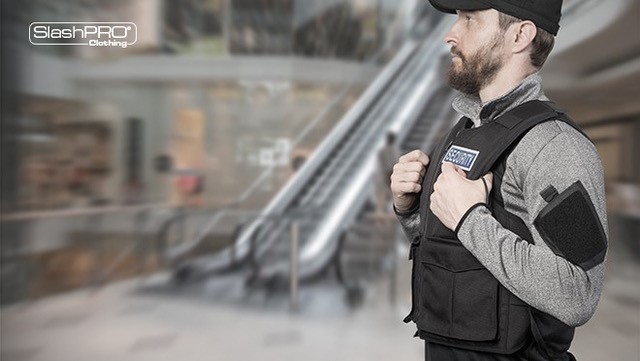 Robert Kaiser said: "No matter how hard we try, we simply cannot eliminate their operational risks, but what we can do is continue our research and development and relentlessly explore all possible options to further improve the personal safety of those who serve our countries and protect us."
SlashPRO® Cut Resistant Clothing is featuring a range of highly protective garments, ranging from covertly worn t-shirts, to overtly worn combat shirts or jackets, all the to cut resistant boxer shorts, neck guards or balaclavas.
All garments offer fully certified, field tested and reliable cut protection. Verified test reports highlight European Cut Level 5 (EN 388:2016), International Cut Level 5 (ISO 13997:1999) and American Cut Level A5 (ANSI/ISEA 2016).  All test reports are available on the firm's website.
SlashPRO® Cut Resistant Clothing can be purchased via a dedicated online shop: www.slash-pro.com.  For corporate or government enquiries please email info@slash-pro.com
###
ENDS
About PPSS Group
PPSS Group is an international firm, dedicated to the design, manufacture and supply of high-performance body armour and protective clothing, offering protection from firearms, edged weapons, blunt force trauma, hypodermic needles and human bites. PPSS Group is also behind the highly acclaimed SlashPRO® Cut Resistant Clothing brand.
The UK headquartered firm is led by a team of highly trained and qualified professionals with 100+ years of operational frontline experience within array of government agencies, elite military forces, police, prison and personal protection.
Media Contact
Ryan Vickers, Chief Development Officer
info@ppss-group.com
+44 (0) 8455 193 953