Our job here at PPSS Group is to help protect those on the frontline and protecting university security officers is something we are passionate about.
With a noticeable increase of young people moving away from home and beginning life on campus, university security guards are absolutely essential in order to ensure the personal safety and protection of our students.
In fact, organisations such as the U.S. based IACLEA (International Association of Campus Law Enforcement Administrators) and UK based AUCSO (Association of University Chief Security Officers) have specialised themselves in, and dedicated themselves to improving the safety of universities and higher education colleges.
However it is rather saddening to see that countries such as my home country Germany still don't see a need for dedicated security teams securing these institutions.
Why do we have dedicated police in the U.S. and Security Managers and Security Guards in the UK and no one fully responsible for this in many other European countries?
I would love to hear from those in charge of campus police or university security and have an 'off the record' or 'on the record' chat and I am happy to include their comments here and update my blog frequently moving forward if permission is given.
The Security Services within universities usually provide security patrols, surveillance and emergency response for all University property. Their officers are usually on duty 24 hours a day, every day of the year and the reason why I believe stab resistant vests of similar type of body armour should form part of their PPE is based on their operational duties and risks, which include:
Questioning the presence of strangers within the university campus/complex represents a clear operational risk especially if their behviour can be classed as 'suspicious'.
Conducting night patrols (with many universities being based near city center locations and also having an active night life the presence of intoxicated members of the public is reality).
Securing the buildings (buildings that often harbour multi-millions of pounds worth of technical and scientific equipment, which may well be of great interest to members of the criminal community)
Taking on additional responsibilities, such as the control of anti-social behaviour and the confiscation of alcohol and other substances etc.
Monitoring and identifying any attempts of any religious extremists groups to influence or manipulate students… often with the clear objective of 'recruiting' new followers in an environment where individuals are still looking for their chosen life path. Please read: "Crackdown on hate preachers at university".
A rather interesting list of all attacks within U.S. based sub-secondary schools (universities and higher education collages) can be found on Wikipedia and was quite an eye opener for me: click here
I certainly don't believe this is a U.S. exclusive issue. It may well be a few years ago now, but I remember very well when one security guard was stabbed several times whilst trying to apprehend three trouble making teenagers on the campus grounds of Leeds Metropolitan University in 2008, literally a mile away from where my wife was born and grew up.
Following this event one security guard made a very serious comment when confirming concerns about equipment levels and said that it was as a result of a similar incident that stab resistant vests had been issued to security officers at Leeds University." Please see: Yorkshire Evening Post, 3 October 2010.
On 9 February 2012 the Warrington Guardian highlighted an incident in which a university security guard found himself dealing with knife-wielding burglar Anthony Web who was subsequently send to prison.
On 28th April 2012 the Hull Daily Mail reported about two brothers who kicked and stamped on a security guard after he caught them breaking into a university building and also were subsequently send to prison.
I think it is rather sensible to acknowledge that security guards patrolling university campuses put themselves at risk when going about their daily duties. This 'higher risk level' especially within some direct face to face interactions, usually justifies or requires dedicated conflict management training as well as personal protective equipment in the form of stab resistant vests offering also good levels of protection from blunt force trauma injuries.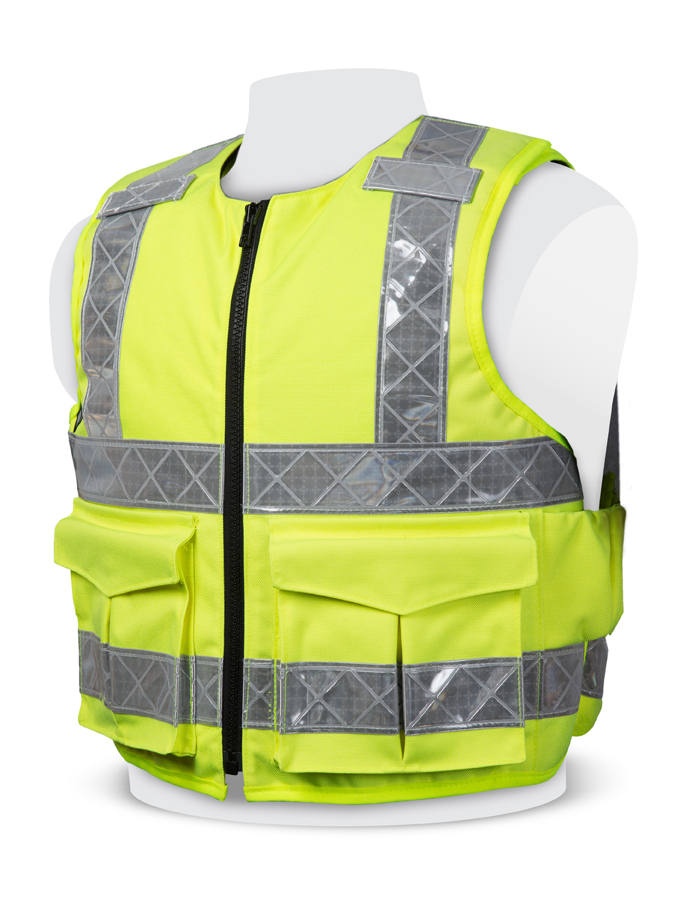 Blunt force trauma injuries are usually the result when being punched, kicked or when individuals hit you with a blunt object or throw things at you. This type of injury is a) a hundred times more realistic and likely than an edged weapon attack, and b) can just be as severe or damaging than an attack using an edged weapon or even firearm.
Several University Security Managers have been enquiring as to the use of of our unique stab resistant vests within their line of work due and subsequently issued their frontline staff with such type of equipment. In my opinion they have done the right thing, they taken precautionary steps, rather than being reactive and waiting for an incident to happen and then having to deal with the operational, emotional and legal nightmare they may well face after such incident.
There is no question about it… PPSS Stab Resistant Vests offer truly outstanding advantages and equal levels of protection and are an ideal solution for university security professionals:
Exceptional protection from the most realistic and most common threat: 'blunt force trauma'… meaning kicks, punch, hits from blunt objects, bricks, falls etc.
UK Home Office certified protection from edged weapon… as well as hypodermic needles
'Unlimited Shelf Life'… resulting in on going savings when compared to Kevlar based vests, which need replacing every 3 to 5 years due to the fact that they degrade when exposed to moisture from sweat / rain or when exposed to UV light.
The following video could be classed as 'physical evidence' for the quality and performance of PPSS Stab Resistant Vests:
PPSS Group is a UK based manufacturer of high performance bullet resistant vests, stab resistant vests and the company behind a range of SlashPRO Slash Resistant Clothing made out of 100% Cut-Tex® PRO… the world's strongest cut resistant fabric.
In case you have any questions in regards to this blog… please comment or email my team info@ppss-group.com or call us +44 (0) 845 5193 953
Stay safe
Robert