I have had very little exposure to the world of correctional facilities and prisons, but my background has given me a small insight to it, from moving the odd detainee with an injury within different theatres of operations, to having my eyes well and truly opened in Eastern Bloc countries during the Balkans conflict, where we were assisting prisoner transfers from the local prisons to temporary holding facilities. The prisons there seemed to be so backward, squalid and still in the late 19th century in some ways. Was this down to the conflict or was this just the norm? The countries I had worked in had been war torn and run into the ground so no wonder the prisons were left to rot, literally. But the below link shows a prison within Skopje, Macedonia, not long ago.
For more information please read: http://www.balkaneu.com/situation-correctional-institutions-fyrom/
Having a few friends who work or have worked in and around prisons and correctional facilities over the past few years, listening to them over a couple of quite drinks and absorbing what is being laid out in front of me. It is truly downright scary how many officers had been injured, sliced, stabbed, viciously attacked or assaulted… stab resistant vests are widely available and have proven to effectively help reduce workplace violence related injuries and even death.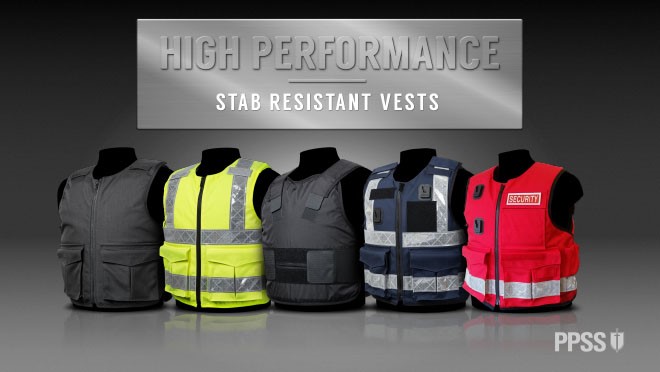 High performance slash resistant clothing made out of 100% Cut-Tex PRO has also been developed and manufactured with the personal safety of prison and correctional officers in mind. Designed to primarily protect key arteries from laceration, subsequent rapid blood loss and even death, slash resistant clothing has changed the world of personal safety over the recent years.
UK headquartered PPSS Group is leading the market with innovative designs, exceptional quality and the capabilities to design bespoke garment designs, subject to customer's operational risks, threats and duties.

None of the above has become standard issues yet!
Naively I honestly thought that some of the articles I have read and seen on social media were only from prisons and correction facilities from across the world and not in the UK. Oh, how mistaken could I have been.
It goes without saying that the correct level of PPE to threat ratio would depend on what level of prison/correctional facility you are in and what is provided!
As a medic you were always following a set pattern when it comes to trauma and the treatment of your casualties, we used what is called the primary survey using C.A(C).B.C.D.E.  Catastrophic Haemorrhage Control, Airway with C Spine control, Breathing, Circulation, Disability and Exposure (Apologies to all my medical friends if this has now changed) for more information https://www.unob.cz/fvz/npp/Documents/algoritmus.pdf
So the biggest thing was "The Bleed"… the catastrophic bleed!
Pretty much everyone understands their body and where you can feel/find a pulse or you heart beating and how close it is to the surface of your skin. The key areas that will cause a catastrophic haemorrhage (not discounting a traumatic amputation) if accessed in such away or by chance, which is more often the case;
Carotid Artery, located either side of your neck.
Brachial Artery, Located in both upper arms.
Radial Artery, Located in both wrists close to the surface.
Femoral Artery, Located either side of your groin.
Axillary Artery, Located in each arm pit.
There is also the venous bleed, these are potentially shallower cuts producing a steady flow of blood, darker in colour than the arterial bleed. Still as significant as an arterial bleed. If there are a substantial amount of cuts to one area or person.
The small and lesser of the bleeds is the capillary bleed, this is where blood comes out slowly and in an even flow. Like when you grazed your knees as child.
But finally let's not forget that internal bleed, the tricky one to treat! Any object used to penetrate the body deep enough can cause catastrophic internal bleeding as we have seen in Belize in 2007 using sharpened bike spokes. For more information please read: http://edition.channel5belize.com/archives/7411

Stab injuries are incised wounds where the length of injury on the surface is less than the depth of penetration into the body, and are the result of potential thrusting action, where the force is delivered along the long axis of a narrow, pointed object (examples below). The force of impact is concentrated at the tip of the implement, and obviously the sharper the tip, the easier the object will penetrate.
Food for thought: the average adult male can lose consciousness in about 30 seconds and then death in about 3 minutes if the bleeding is not controlled or arrested, this would also depend on what area of the body has been cut and to what depth. You would be shocked at what a single pint of blood looks like on the floor. For more information please read: http://www.forensicmed.co.uk/wounds/sharp-force-trauma/stab-wounds/
Bearing all the above in mind It amazing when the mind is left to wonder what it can come up with and invent especially when you a whole lot of time on your hands, like some the guests held within our Prisons  For more information:  http://weburbanist.com/2009/09/10/insane-prisoner-inventions-24-diy-prison-tools-weapons/
All it takes is a small amount of initiative to come up some sort of weapon that can be used to stab, slash or cut. The weapon of choice in most assaults be it domestic or on the streets include, lock knives, sheath knives and kitchen knives, highest of which being the kitchen knife. But as you can see above link within the correction and prison world, it is anything that can be made into an edged or pointed weapon, broken glass, broken tiles and even paper! ANYTHING…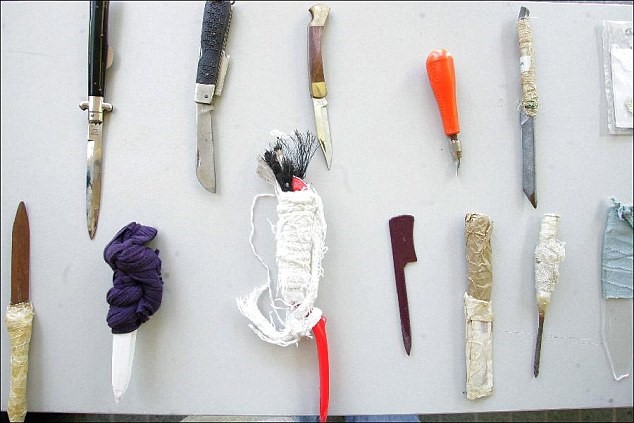 Characteristics of stab/slash wounds:
Potentially clean cut edges, this depends on the weapon used. Normally slit like.
The wound is not normally the same size as the blade.
One or both ends pointed.
A singled edged knife can cause a wound, which may have one end pointed  and the other squared
Non-pointed end may be squared off or split (fish tail or boat shaped defect).
Often gaping (related to skin elasticity).
Cross section of weapon may be illustrated when edges of wounds opposed.
Underlying bone may be scored by blade, depending on depth and force of blade.
Abrasions may be present.
Frequently shows notching or a change in direction (caused by relative movement of the knife and body).
A wound from a closed pair of scissors is a shallow "Z".
The depth of the wound maybe greater than the length of the blade. This is something you would have to bear in mind on the chest and abdomen.
For more information please read: http://www.forensicmed.co.uk/wounds/sharp-force-trauma/stab-wounds/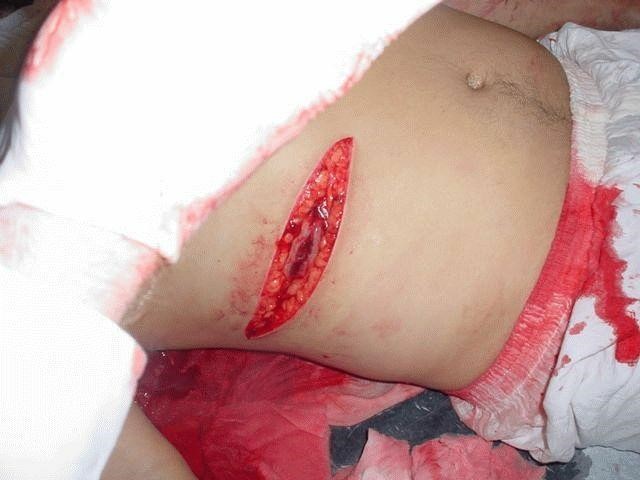 The loss of circulatory blood volume from a bleed is the most common cause of shock in casualties which can lead ultimately to death.
So now we know where the main vascular areas are within the body, roughly how quick it takes for you to bleed out, the characteristics of a stab/slash wound, what can be used to cause the injuries and what happens if left untreated. Now is the time to act fast, meaning you have to move fast on these casualties.
How do we potentially prevent them?
If we were to look at the daily wear of our prison and correctional officers would it be such a hard task to kit them all out in some sort of slash proof clothing and with some sort of stab resistant vest, With the correct PPE, protective clothing or slash resistant clothing  and bite resistant clothing I'd like to think that most, if not all of these injuries could be prevented or minimalised in some way!
How do we treat them?
I am firm believer in "KISS" Keep it simple stupid! As with most things within the medical world I found that they can be over complicated and looked into far too much.  The following link is an amazing bit of practical kit and good guide for a few certain situation but covers stab/knife nicely   http://citizenaid.org/
Apply pressure.
Call 999 or assistance (Depending on your location).
Maintain pressure, this can be anything from a finger, two hands to a knee.
Pack the wound if it is large wound. (Using a Tie, T Shirt or socks). I have even heard of people using dirt, I don't know how true this is? But is if has worked and has potentially saved a lives, then well done whoever it was for the out of the box thinking!
"The simple act of applying pressure, can potentially mean the difference between life and death"
Conclusion
As I mentioned earlier, I have had little exposure to the world of correctional facilities, young offenders and prisons. But im "shocked" and one fact seems to be a common thread whilst chatting to a few levels within the correctional world and gathering my research for this article, is the PPE/protection of the prison and correctional officers on a day to day is down write lacking. I am aware that prisons and correctional facilities have the means upgrading their protection to extract a prisoner form his/her cell but their day to day protection is lacking substantially. If a police officer makes an arrest of someone who has committed a knife crime, the said officer is wearing (hopefully) the correct level of stab protection. This person is then placed in our correction system, has he or she now become less of a knife wielding criminal? No! They are not. They still pose the same level of threat as before they went into the prison, so why aren't our prison officer issued with the relevant protective equipment? Is this down to cost thing, again another financial constraint put in place, to save money? Is this due to a poorly written risk assessment? Or a risk assessment written by someone that has had little or no time facing these inmates? Is this down to naive/blinkered approach to prison officers PPE? Just a few questions that would need to be answered. The worrying fact is that these ladies and gentlemen face this risk on a daily basis, with little or no protection. We need to do more to help them so they can help others in their correctional pathway to rehabilitation. How many more correction officer have to be wounded, maimed or even killed before the correct level of protection is provided for them?
In case you have any questions in reference to this article, please contact PPSS Group via email info@ppss-group.com or call our Headquarter +44 (0) 845 5193 953 or send me a private message or add your comment here.
Scott Ferris – Ballistic Body Armour Consultant
PPSS Group
—
About the Author:
Scott joined HM Forces as a Combat Medic in September 1991 and has served all over the world, his career spanned some 22+ years serving in some of the most hostile environments. Reaching the rank of Warrant Officer Class One (Command Sergeant Major). Scott had a vast and wide career, predominantly dealing with trauma based casualties and has seen his fair share of blunt force trauma and edged weapon injuries. Scott recently joined PPSS Group as the Ballistic Body Armour Consultant.