Cash and Valuables in Transit (CVIT) companies are involved in transporting, storing and sorting cash and other valuables, typically for retail and financial organisations as well as other members of the public sector where the availability of cash is essential for day to day business. They play a vital role in replenishing and protecting cash supplies for the business world and the wider community, keeping our economy running.
Based on reports by the BSIA (British Security Industry Association) these guys transport around £500,000,000,000 (that's ½ trillion GBP) every year the UK alone, which makes Cash & Valuable in Transit Professionals perform an important service, supporting banks and businesses up and down the country.
However, I think it is rather obvious that the large amount of money and valuables involved make Cash & Valuable in Transit Professionals a prime target for both the organised crime organisations who every so often invest a lot of time carefully monitoring and studying their targets, and also those who turn to crime when in their opinion 'an opportunity arises'.
These just a very few of the news that made the headlines over the past year(s) in the UK alone:
"A gang of cash-in-transit robbers has been jailed…"
"Man jailed for cash-in-transit robberies…"
"Birmingham cash van robbers jailed for 35 years…"
"Statistics show threats still remain against cash-in-transit couriers…"
"Robbers 'armed to the teeth' attack Co-op store as cash delivery is made…"
"Father and son jailed after cash-in-transit robbery at…"
"Cash in transit attack forces driver to take refuge in toilets…"
In many cases the offenders were armed with weapons including edged weapon, sledgehammers, meat cleavers, axes, baseball bats, iron bars and even Samurai swords.
There is no question about it, armed robberies and violent assaults of all sorts have become a very real risk to these men and women, and we all will understand that becoming a victim of such crime can lead to long term physical and psychological damage and distress.
With most robberies and attacks on couriers taking place as they cross the pavement, I am aware that security and safety professionals (and organisations) are keen to find ways to minimise the distance couriers have to travel between the CVIT vehicle and the delivery premises, or by campaigning to allow these professionals to briefly park at 'no parking' spots.
Having said that, looking into effective PPE (Personal Protective Equipment) such as 'operationally sensible' body armour must also be part of the 'package' when exploring all options on how to effectively reduce the risk of injuries on these professionals.
So, what it the right type of body armour based on the operational risks, threats and duties of Cash & Valuable in Transit Professionals?
Design?
The options are rather endless. One CTIV firm might prefer this typical black overt body armour design, where others might like to see their corporate colours being part of the body armour, as branding has become an important thing for many firms. High visibility tapes have also become a standard request from many of our clients coming from this sector. Please note PPSS Group is specialised in the design, development and manufacturing of bespoke designed body armour… so I suggest you do make contact and let us know what design you believe is most appropriate for your organisation.
Covert or Overt? 
Well I really would suggest overt body armour, so the guys wearing them can open the body armour (by simply unzipping the front) when back in a 'safe environment' (the vehicle) and let the body and skin breathe a little. No one really likes wearing body armour and at times the wearer can become very hot, even when wearing one of the latest high performance body armour, so why not enabling the wearer to cool down for a moment whenever possible and whenever it is safe for them to do so?
Protection Level? 
Well, I don't necessarily believe bullet resistant vests are the way forward in most countries.  No soft body armour will ever protect you from sawn off shot guns anyway (and they are the type of firearm often being used in those very rare cases where guns played a part).  The velocity and 'spread' of such ammo would most likely kill the wearer anyway or at least cause significant harm and damage.  For me the key when selecting the right body armour is the highest level of 'blunt force trauma protection' as blunt objects and the type of weapon that would lead to blunt force trauma injuries are the weapon of choice in such scenario.  Of course, certified protection from edged weapon must be crucial too… but for me the crucial combination of the highest possible level of blunt force trauma protection and a high level of edged weapon protection would be the best way forward.
The above video can be seen as clear physical evidence on how effective our stab resistant vests really are.. This video features me being stabbed and beaten and hit by several knives, machetes, base ball bats, iron bars, hypodermic needles etc and I am still here to write this very article.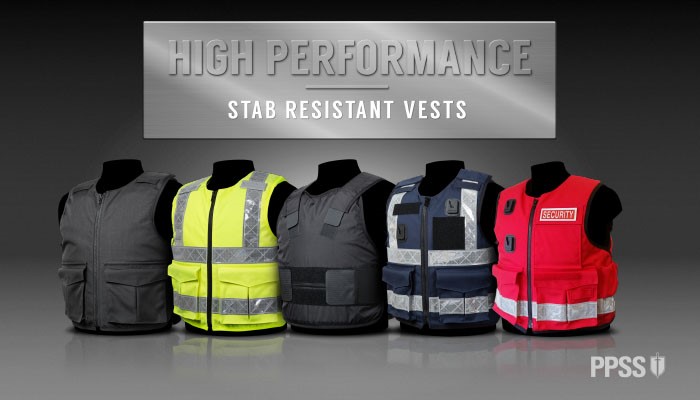 High performance stab resistant vests made by UK headquartered PPSS Group are without any question the best possible choice. The unmatched level of blunt force trauma protection and superb protection from all types of edged weapon, along with an unlimited shelf life makes our unique body armour the ultimate choice for such operational risk and threat level.
In case you have any questions in regards to our high performance PPSS Body Armour, please make contact by either email info@ppss-group.com or telephone +44 (0) 845 5193 953.
Stay safe.
Robert