Cut Resistant Clothing And Workwear
CutPRO® is a highly acclaimed UK based manufacturer and supplier of cut resistant clothing and workwear to the flat glass and sheet metal industry around the globe.
Our key objective is to reduce the number and the severity of cut injuries and laceration, especially during the manual handling. We will not stop until this goal has been reached.
Our 2022 product range is the result of in depth research and following consultancy with senior health and safety professionals, but also speaking with workers on the 'shop floor'.  During this process we have developed countless valuable relationship with leading professionals in these sectors.
The best cut resistant clothing and workwear to reduce operational risks
All feedback received in recent years, the above-mentioned extensive research and a clear understanding of the precise work environment have all helped us to design and produce market leading cut resistant clothing and workwear.
Despite from designing smart looking garments, we also wanted to make sure the wearer of the garment will be comfortable and excited about wearing the garments, even when wearing it for many hours and sometimes in very hot and humid environments.
We understand the temperatures between different production or processing facilities can vary significantly and subsequently pose an extreme challenge to comfort and breathability.  Our understanding of these challenges was invaluable during the design process.
We all understand accidents continue to happen as long as human beings exist and manual handling of both flat glass and sheet metal is necessary.  However, appropriate cut resistant clothing and workwear should be worn especially during the manual handling
We genuinely believe CutPRO® cut resistant clothing and workwear as appropriate.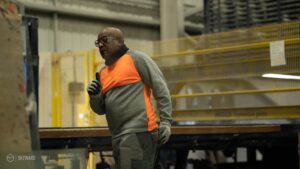 All CutPRO® garments are fully CE marked and made from our very own highly acclaimed and thoroughly field-tested Cut-Tex® PRO fabric.
The UK's Health and Safety Executive (HSE) keeps highlighting the risks involved in your industry:
"…the handling of flat glass involves the risk of serious personal injury… HSE experience has shown that although the risk is higher in factories where flat glass is manufactured… serious accidents continue to happen in premises where glass is subsequently handled and processed… large sheets of glass are routinely handled using vacuum lifting frames, these can involve the risk of being struck by falling glass… appropriate protective clothing should be worn when glass is handled manually".
Please feel free and contact us and we can help you establish the critical differences between CutPRO® and your current PPE.
Our company's social media presence:
Please also feel free to contact us.