In an ever changing world, where a lack of respect and lack of discipline are the order of the day, stab vests have become an essential piece of equipment for many enforcement officers or agents.
A lack of adequate safety measures can put these professionals at unnecessary risk, and cause unacceptable injury or harm.
We have to accept that some individuals are seriously bad people with no concerns of the well-being of others whatsoever, and many have a real disregard for human life in general.
We also have to accept that even if you are lucky enough to have the most beautiful personality, the voice of an angel, and truly exceptional communication skills, it is a fact that someone who is seriously intoxicated, mentally ill, is having an extremely bad day or is expressing extreme political or religious views, may well overreact to anything you are going to say or do in your job.
Dealing with individuals like this and visiting their homes when they have not paid their debts or fines means exposing yourself to additional risks. Additional risks, which need mitigating.
For sure, conflict management or resolution training and working on better communication skills if of immense importance. However, based on above, sometimes none of it will make any difference whatsoever.
Stab vests should be seen as a 'seat belt'.
It doesn't matter if you are the best driver in the world, have advanced driving skills and never had an accident. One day someone else is driving a car, playing on his or her mobile, maybe being intoxicated, not paying attention, and suddenly (due to no fault of your own) that person is crashing into you. That is the day when you find out why you have being wearing a seat belt of those years.  You just don't know when the specific moment will be.
For me stab vests are the 'last line of defence', something that can make the difference between injury or no injury, between life and death. It will do its job when everything else may well have failed.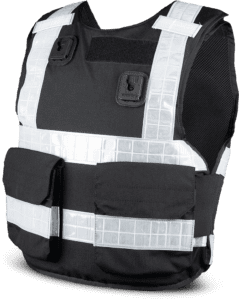 What Enforcement Specialists say about Stab Vests:
Andy Coates (CEO of Enforcement Bailiffs Ltd) has been in the enforcement and investigation industries since 1986. Andy comments:
"When I go out on the job, safety has always been a high priority and after being attacked with a knife some years ago I have always worn body armour… and now when I deliver training courses I bring in my stab resistant vest and show it to the students advising them to purchase similar equipment."
Daren Shaw, Head of Training and Development at IES Training, and a man with more than 20 years of operational frontline experience in enforcement, said:
"I have been in the Enforcement Industry for over 20 years and have seen many incidents over those years.  I used to use Kevlar stab vests but became aware several years that the protection it offered diminished. A few years back, I then contacted Robert Kaiser of PPSS Group and ever since I am wearing their stab vests.  I have recommended the vest to all our learners who come through our Enforcement Agent Training Company (IES Training Ltd) as it is vital for everyone to have top-quality products like this where personal safety is involved."
PPSS Group is aware of the many Enforcement Officers or Agents discussing the subject of stab vests via different social media and digital networking platforms. Some suggest or even recommend second hand or 'retired' ex-police body armour, or body armour from eBay or an army surplus store. It really is worth to reconsider this attitude towards body armour.
One simply doesn't know what the real history of that body armour is.  How old is the protective material?  How have they been stored or taken care of?  How many fights and physical confrontation have they seen? 
Please ensure you are investing into stab vests offering certified blunt force protection, as well as certified spike protection. It is most certainly worth it!
Read one of my recent articles: How reliable are stab vests?
The vast majority of stab  vests are made out of an aramid fibre called Kevlar. Kevlar will degrade within 3-5 years subject to exposure to UV light and moisture e.g. sweat, rain, fog, mist and rain etc. Kevlar based body armour have a limited shelf life and the one you might consider to buy cheap and cheerful will most likely not offer sufficient levels of protection.
PPSS Group's stab vests are made from a high performance carbon fibre composites, offering unmatched protection from edged weapon, shanks, spikes, blunt force and hypodermic needles.
Should you ever have any questions then please do not hesitate and contact us.
You can also contact Colin Mackinnon, our Technical Director directly. Colin spent 26 years in the Police (Counter Terror, Surveillance, Covert Operations and Firearms) and is frequently visiting our friends and customers here in the UK.