In the ever-growing sectors who demand stab vests, we have found more and more frontline professionals also require certified high visibility stab vests offering KR1/SP1 stab and spike protection.
Using the right safety workwear is not only important to the wearer, but also the employer, who are required to comply with national, European or sometime international guidelines or directives. The EN ISO 20471:2013 is the standard for high visibility clothing, it is the unquestionable benchmark for anyone wishing to design or supply high visibility clothing.
PPSS Group have perhaps designed the very first and potentially only EN ISO 20471:2013 certified hi vis stab vests in the UK. This means you are no longer required to wear a hi-vis vest over your upper body garment in environments where it would be crucial.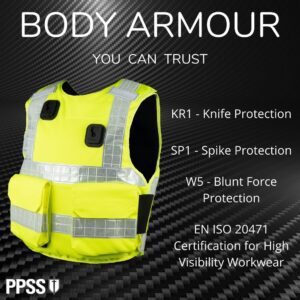 Please note that many manufacturers provide an option, which appears to be Hi-Viz, but is not actually certified under ISO 20471 regulations!
Our fluorescent Cordura® material boosts visibility during the daylight hours, but more importantly it also increases levels of visibility during the night. This is further maximised by our highly reflective tape, which runs around the body and over the shoulders.
However, you will also be aware that all of our stab vests are also offering thoroughly field-tested and officially certified CAST KR1/SP1 (stab and spike) and VPAM W5 (blunt force / impact) protection. You can 100% depend on them. Subject to your operational duties, risks and threats, please chose from one of our comprehensive product list.
Key Requirements of ISO 20471:2013 Certified High Visibility Stab Vests
The standard covers the requirements for the base fabric colour, minimum areas for reflectivity and placement of tape for high-visibility clothing.
The requirements for the minimum area of reflective material may restrict the ability to adjust garments. For example, shortening trousers might reduce the area of fluorescent material too much. This also means that hi-vis trousers shouldn't be tucked into safety boots, as the garment may no longer comply with the standard. The same goes for wearing any clothing that obscures or covers the fluorescent material, such as wearing a non-hi-vis jacket over a hi-vis vest.
Three colours of material are approved in the hi-vis standards: fluorescent yellow, orange and red. In addition to the surface area of each material, there are requirements for the material's performance, as well as the degree of reflection from the reflective strips. Physical properties including tensile strength, thermal resistance and dimensional stability are also covered by the standard. These requirements ensure that all hi-vis garments are suitable for a range of working conditions where there is a high risk.
There are strict requirements on the amount of "bleeding" between the reflective strips and the fluorescent and contrast materials. "Bleeding" refers to residues of colour within the material that can stain the sensitive parts of hi-vis garments. As the fluorescent material is always a bright colour, it can be affected by the darker colour of the contrast material. EN ISO 20471 stipulates the tolerated level of bleeding to ensure the fluorescence remains effective.
Although branded or personalised PPE and hi-vis clothing is a great way of promoting and distinguishing your company on site, please note you should take care when adding logos to hi-vis workwear. Areas of background or retro-reflective material that are covered by branding will ultimately be excluded from the calculation of the required minimum area.
For further information on our certified high visibility stab vests, or if you wish to discuss your general body armour needs, please contact us.