Cash in Transit (CIT) companies are involved in transporting, storing, and sorting cash and other valuables, typically for retail and financial organisations as well as other members of the public sector where the availability of cash is essential for day-to-day business.
Cash continues to serve a vital role in any country's financial and economic progress. The relevance of cash may be changing today where easy cashless transactions are possible, however, it is still king. The supply and collection of cash is absolutely essential in the market.
However, many banks and post offices stopped holding banknotes and coins in their local branches a long time ago, in order to move all associated security risks to the CIT companies. Some of these private companies operate in several security sectors, such as G4S, but there are organisations, such as Loomis, who are dedicated to CIT, and others who undertake the activity in-house, such as the Post Office.
According to Applied DNA Sciences, in the U.K. alone, there is an estimated £500,000,000,000 (1/2 a Trillion GBP) being transported each year, or £1.5 billion per day.
This cash is and will remain to be the number one target of many criminal minds. Obtaining high-value cash as fast and as easily as possible is the objective of most organised illegal operations. Therefore, this cash makes Cash in Transit staff a prime target for organised crime organisations, many of which are capable and willing to use physical force or violence to get what they want.
It is therefore crucial that CIT service providers consider all reasonable measures to mitigate this risk. However, given the sensitive issue, for security reasons I am not going to enclose any security details to fight against this type of crime.
In general, most measures focus on no longer allowing individual operators and managers to independently intervene on the opening systems and possibly deactivate the security systems. All this is now normally managed by remote central operating stations with remote and multiple consents and video recognition, helping to avoid and circumscribe external and internal threats by criminals, physically directed on people and vehicles.
These criminals often work in large teams and invest a significant amount of time carefully monitoring and studying their targets.  Of course, other criminals take criminal action only when in their opinion 'an opportunity arises'.
These just a very few of the news that made headlines recently here in the UK alone:
In many cases the criminals were armed with weapons including edged weapon, sledgehammers, meat cleavers, axes, baseball bats, iron bars and even Samurai swords.
There is no question about it, armed robberies and violent assaults of all sorts are a real risk to these men and women. and we all will understand that becoming a victim of such crime can lead to long term physical and psychological damage and distress.
Security and safety professionals are keen to find ways to reduce the risk of attacks, but also reduce the risk of injury to all staff. Technology providers, such as those developing communication equipment or alarm systems are also on constant search for ways to improve their kit and reduce the risk of injury.
Personal Protective Equipment (PPE) such as 'operationally sensible' body armour is in most cases also part of the 'package' when exploring effective options on how to reduce the risks of injuries in case existing safety plans have failed.
Body Armour for Cash in Transit Staff
So, what it the right type of body armour based on the operational risks, threats, and duties of Cash in Transit staff?
Design 
The options are rather endless. One CIT firm might prefer a more mainstream black overt body armour design, where others might like to see their corporate colours being part of the body armour, as branding has become an important thing for many firms. However, high visibility body armour has also become extremely popular, enabling the public to easily spot those men and women in case of any distress.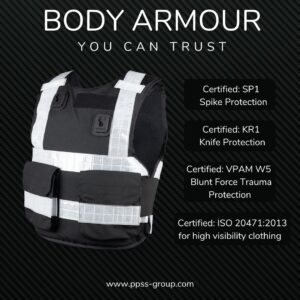 Protection Levels 
Bullet resistant vests are not the way forward here in the UK.  No 'soft body armour' will ever protect you from sawn off shot guns anyway (and they are the type of firearm often being used in those very rare cases where guns played a part).  The velocity and 'spread' of such ammo would most likely kill the wearer anyway or at least cause significant harm and damage due to the 'blunt force'.
For me the key when selecting the right body armour is the highest level of 'blunt force protection' as blunt objects (i.e. hammers, iron bars, baseball bats etc.) are historically and frequently being used for this type of attack.  Of course, certified protection from edged weapon (knives), and of course shanks and spikes, is crucial too.
PPSS Group Body Armour offer certified and dependable KR1/SP1/W5 protection from edged weapons, knives, shanks, machetes, blunt objects (impact) and other weapons, making them the #1 choice of body armour for CIT companies. Made from carbon fibre they offer protection you can truly depend on.
These two videos can be seen as clear physical evidence on how effective our body armour is:
Our body armour is made in Britain and offer dependable protection you can trust.
In case you have any questions please contact us.
You can also contact Colin Mackinnon, our Technical Director directly. Colin spent 26 years in the Police (Counter Terror, Surveillance, Covert Operations and Firearms) and is frequently visiting our friends and customers here in the UK.